The Kentucky State Quarter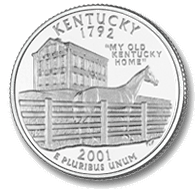 The Kentucky Quarter, officially released on October 18, 2001, became the 15th quarter released in the U.S. Mint 50 States Quarter (TM) Program and the last quarter to be released in 2001.
Design concepts for the Kentucky quarter were reviewed by the Kentucky Quarter Project Committee led by Kentucky's First Lady, Judi Patton. Launched in May, 1999 the quest for a design concept representing the Commonwealth of Kentucky resulted in over 1,800 suggestions. Twelve finalists were selected by the Committee and were displayed in the front lobby of the State Capitol and on the Internet from June 15-17, 1999. Voting for their favorites, over 50,000 votes from Kentucky residents were tallied. The final top seven design concepts were then deliverd to the U.S. Mint by Governor Paul E. Patton. Three of the submitted designs included the mansion called "My Old Kentucky Home", two designs depicted horses (one with a jockey) and one each honored Daniel Boone and Abraham Lincoln, depicting his birthplace. On October third, the final design was announced, incorporating "My Old Kentucky Home", a Kentucky thoroughbred and the white plank fence common to Kentucky thoroughbred farms.
Home is where the heart is and Kentucky wanted to send a strong message about the value of home among the people of the Commonwealth. The stately mansion engraved on the quarter is Federal Hill, built by Judge John Rowan in 1818. Judge Rowan's cousin, Stephen Foster, is thought to have writtin My Old Kentucky Home, the Official State Song of Kentucky, while visiting Federal Hill. Judge Rowan's 1818 home, a Kentucky treasure, is commonly referred to as "My Old Kentucky Home".
In the foreground of the coin is another official symbol of Kentucky, the thoroughbred horse, designated the Official Horse of the Commonwealth. Standing behind a white plank fence, in front of the Federal Hill mansion, the Kentucky thoroughbred represents Kentucky's long association with horse breeding and horse racing.
The official unveiling ceremony for the Kentucky Quarter was held in Bardstown, Kentucky at My Old Kentucky Home State Park. On a cool and sunny day, with the Federal Hill mansion behind him, Governor Paul E. Patton, called the mansion and the horse, "...the two most visible, beloved symbols in Kentucky." A written statement from First Lady Judi Patton, read: "We hold dear those symbols that draw thousands of visitors to our state every year - My Old Kentucky Home State Park, the thoroughbred industry, our rolling fields of bluegrass outlined by plank fences. We welcome all Americans to experience the beauty of Kentucky and the friendliness of its people, and we hope they will see some sense of that in our Kentucky quarter."
Sources: United States Mint, http://www.usmint.gov, August 9, 2001.
Commonwealth of Kentucky Web Site, (http://www.state.ky.us/agencies/parks/news/101801.htm), October 18, 2001.