The Vermont State Quarter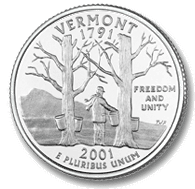 The Vermont State Quarter is the fourteenth quarter released in the 50 State Quarters program and the fourth quarter released in 2001.
Way back in 1999, Governor Howard Dean appointed the Vermont Arts Council to oversee the gathering of design ideas throughout The Green Mountain State. After an extensive public process, the state quarter design choices were narrowed to five. Interestingly, each of the five displayed Camel's Hump, one of the highest peaks in Vermont.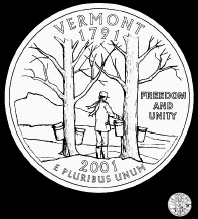 Governor Dean selected a design from among the five finalists and forwarded it to the United States Mint. On August 6, 2001, the first Vermont state quarters were released.
The Vermont State Quarter design highlights two important industries in Vermont; maple products and skiing.
Maple products have been a significant economic factor in the state going back over 200 years. Vermont maple sugar was relied upon by many Americans for their sugar supplies before cane sugar was introduced in the 1800s. Today, Vermont Maple Sugar Candy is considered a gourmet treat and Vermont Maple Syrup the ultimate compliment to a steaming hot stack of pancakes. In fact, maple products are such an integral part of Vermont life, that Vermont has designated by law that Maple is the Official State Flavor of Vermont. Vermont is the only state to have proclaimed an Official State "Flavor." Additionally, the Sugar Maple, source of Vermont's wonderful maple products, has been designated the Official State Tree. In the forefront of the design, is a man tending the sap buckets hung in a stand of sugar maple trees.
Vermont is also home to some of the finest skiing in New England. Waves of skiers head for the slopes of Vermont after a new snow to enjoy this popular winter recreation. Camel's Hump, one of the highest mountains in the Green Mountain State, rises in the background of the Vermont State Quarter design. If Vermont were to proclaim an Official State Sport, skiing might well be the choice.
Also woven into the design is the Vermont State Motto, Freedom and Unity, and the date that Vermont entered the new union of The United States of America, 1791. Vermont was the first state to enter the union after the original 13 colonies.
Source: United States Mint, http://www.usmint.gov, August 9, 2001.