The Tennessee State Quarter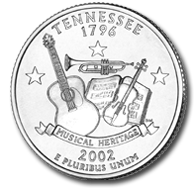 On January 2, 2002, the Tennessee State Quarter, sixteenth in the U.S. Mint's 50 States Quarters Program, became the first state quarter released into circulation in the year 2002.
The design of the quarter presents the musical heritage of Tennessee; by representing three of the distinct musical traditions of the Volunteer State. The fiddle represents the Appalachian music of eastern Tennessee where the Great Smokey Mountains pour into the state. The trumpet represents the jazz and blues heritage of western Tennessee where Memphis and the Beale Street Historic District memorialize the tradition. The guitar represents country music, prevalent in central Tennessee and generated with a fervor from The Grand Ole Opry in Nashville. Sheet music emphasizes the impact of these three musical traditions on the United States and on the world.
A banner below the instruments reads "MUSICAL HERITAGE". 1796 is the year that Tennessee became a part of the United States of America. The three stars echo the three distinct musical traditions of Tennessee. One can almost feel the rhythms and hear the melodies of this great state.
Back in March, 2000, Governor Don Sundquist announced a statewide contest that called for students, artists, and citizens to submit state quarter design concepts to a 17-member Tennessee Coin Commission by June 1, 2000. Almost 1,000 ideas were submitted, of which three were chosen by the Governor and his Tennessee Coin Commission for submission to the United States Mint; Musical Heritage, Women's Suffrage (Tennessee was the final state to ratify the 19 Amendment.) and Native American Sequoyah, developer of the first writing system for the Cherokee people.
From the three concepts submitted, five approved renditions were returned to Governor Sundquist. He chose a rendition of "Musical Heritage," a concept that had been submitted by Mr. Shawn Stookey, a teacher at Lakeview Elementary in New Johnsonville, Tennessee.
On January 14, 2002, the official unveiling of the coin took place in Nashville at the Country Music Hall of Fame. On hand for the ceremonies were Governor Don Sundquist, U.S. Mint Director Henrietta Holsman Fore and Treasurer of the United States Rosario Marin as well as a host of well-known performers and hundreds of other Tennesseans. Concept winner, Mr. Shawn Stookey was in attendance along with students from the Lakeview Elementary School.
The Hillsboro High School "Sophisticats" kicked off the ceremonies with a Tennessee song medley. Ricky Scaggs sang "Amazing Grace," Ruby Wilson sang "The Tennessee Waltz," and Isaac Hayes sang "God Bless America." Country Music Foundation Board of Officers and Trustees President Marty Stuart closed the program with the timeless song, "Will the Circle Be Unbroken."
Source: United States Mint, http://www.usmint.gov, January 17, 2002.