Encyclopedia of
Dog Breeds
D. Caroline Coile
Encyclopedia of Dog Breeds, by D. Caroline Coile Ph.D. 368 pages. Publisher: Barron's Educational Series; 2 edition (April 1, 2005)
Updated with the latest information on canine breeds recognized by the American Kennel Club, this lavishly illustrated volume is a treasure house of information for dog lovers, owners, breeders, and prospective buyers. It begins with a detailed discussion of breed evolution, focusing on the physical and behavioral traits that distinguish one canine breed from another. The book's main section profiles more than 150 breeds, arranged in the general categories specified by the AKC—Sporting Group, Hound Group, Working Group, Terrier Group, Toy Group, Non-Sporting Group, and Herding Group. Each profile tells how and why the breed was developed, and how selection to perpetuate specific traits affects a dog's suitability as a pet. Advice for prospective dog owners will help them be sure they are choosing a breed that is compatible with their own situation and needs. They will also find information on each breed's vulnerability to specific health problems, longevity, exercise needs, compatibility with children, and much more. Profuse illustrations include color photos of all listed breeds.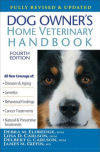 Dog Owner's Home
Veterinary Handbook
Dog Owner's Home Veterinary Handbook, by Debra M. Eldredge, DVM, Liisa D. Carlson, DVM, Delbert G. Carlson, DVM, James M. Giffin, MD, Beth Adelman (Editor). 656 pages. Publisher: Howell Book House; 4 edition (August 27, 2007)
The guide dog lovers have relied on for more than twenty-seven years, this handbook has been extensively revised to include the latest information on everything from canine healthcare to nutrition to holistic treatments. Dog Owner's Home Veterinary Handbook, Fourth Edition, is the definitive guide for every dog owner.
With this guide, you'll know when to rush your pet to the vet and when you can begin treatment at home. You'll communicate more effectively with your vet. You'll have the latest information on every aspect of your dog's medical care when you need it.

Family Friendly
Dog Training
Family Friendly Dog Training: A Six Week Program for You and Your Dog, by Patricia B McConnell Ph.D., Aimee M Moore. 344 pages. Publisher: McConnell Publishing, Ltd.; 1st edition (January 5, 2007)
Perfect as a supplement to classes, and for those going it alone, this user-friendly, engaging book describes a six-week dog training program that gets dogs and their owners off on the right paw and helps prevent future dog problems.