Ohio State Tree
| | | |
| --- | --- | --- |
| Buckeye | Aesculus glabra | Adopted:1953 |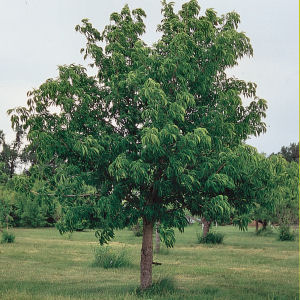 Ohio Buckeye (Aesculus glabra): Ohio State Tree

USDA-NRCS PLANTS Database / Herman, D.E., et al. 1996. North Dakota tree handbook. USDA NRCS ND State Soil Conservation Committee; NDSU Extension and Western Area Power Administration, Bismarck.
Ohio Law
The following information was excerpted from the Ohio Revised Code, General Provisions, Chapter 5.
GENERAL PROVISIONS
CHAPTER 5: STATE INSIGNIA; SEALS; HOLIDAYS
5.05 State Tree.
The tree, Aesculus glabra, commonly known as the "Buckeye" is hereby adopted as the official tree of the state.
Effective Date: 10-02-1953
---
Source: California State Legislature, Ohio Revised Code, (http://codes.ohio.gov/orc), May 16, 2008.
Source: State Names, Seals, Flags and Symbols: A Historical Guide Third Edition, Revised and Expanded by Benjamin F. Shearer and Barbara S. Shearer. Greenwood Press; 3 Sub edition (October 30, 2001).
---
Additional Information
Aesculus glabra Willd, Ohio Buckeye: Entry from the United States Department of Agriculture, Natural Resources Conservation Service, Plants Database.
Aesculus glabra, Ohio Buckeye: University of Connecticut Plant Database of trees, shrubs, and vines by Mark H. Brand.
Aesculus glabra, Willd, Ohio Buckeye: United States Departement of Agriculture, United States Forest Service, Northeastern Area State and Private Forestry.