Maine State Tree
| | | |
| --- | --- | --- |
| White Pine | Pinus strobus | Adopted:1945 |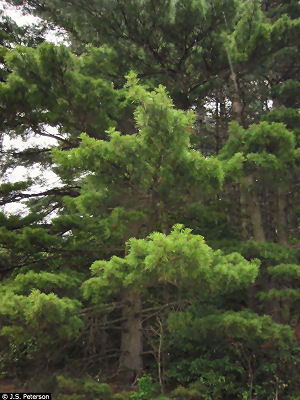 White Pine: Maine State Tree
Credit: J.S. Peterson @ USDA-NRCS PLANTS Database
Used with permission
Adoption of the Maine State Tree
The white pine was initially adopted as the official tree of the State of Maine, by Senate Resolve in 1945. Presented by Senator Clough of Penobscot, Legislative Document No. 381 follows.
Chapter 8

RESOLVE, Designating the White Pine Tree as the State Official Tree.

White pine tree, state official tree. Resolved: That the white pine tree be, and hereby is, designated the official tree of the state of Maine.

Effective July 21, 19451
In Maine, Resolves are defined as having "the force of law but do not amend statutes directly."
Fourteen years after acting by Resolve, the Maine Legislature again addressed the status of the white pine as official tree of the State of Maine.
In "AN ACT to Correct Errors and Inconsistencies in the Public Laws," the white pine was given a promotion of sorts and elevated to a position in the Maine Revised Statutes by the Ninety-ninth Legislature.
The following is an excerpt pertaining to the official tree from Legislative Document No. 1171 presented by Senator Weeks of Cumberland.
Section 26-A. State tree. The official tree of the State shall be the white pine tree. (Resolves 1945, c. 8)
The effective date of this approved bill was September 12, 1959.
Though no scientific designation is provided in the text approved by the Maine Legislature, an assumption is made that the intended species is Pinus strobus, the eastern white pine.
This act also amended new sections to the Maine Revised Statutes for the State seal and the State motto, adopted by resolve in 1820, for the State bird, adopted by resolve in 1927, for the State song, adopted by resolve in 1937, and for the State flower, adopted by resolve in 1895.
Maine Law
The following information was excerpted from the Maine Revised Statutes, Title 1, Chapter 9, Subchapter 1.
Title 1: GENERAL PROVISIONS
Chapter 9: SEAL, MOTTO, EMBLEMS AND FLAGS
Subchapter 1: GENERAL PROVISIONS
§208. State tree.
The official tree of the State shall be the white pine tree.
---
Source: Maine State Legislature, Maine Revised Statutes, (http://janus.state.me.us/legis/statutes/), September 26, 2008.
Source: 1Acts and Resolves As Passed by the Ninety-first and Ninety-second Legislatures of the State of Maine. Page 845. 1945.
Source: State Names, Seals, Flags and Symbols: A Historical Guide Third Edition, Revised and Expanded by Benjamin F. Shearer and Barbara S. Shearer. Greenwood Press; 3 Sub edition (October 30, 2001).
---
Additional Information
Eastern White Pine (Pinus strobus L.): Description from the Maine Forest Service.

Pinus strobus L. (Eastern white pine): USDA, NRCS. 2004. The PLANTS Database, Version 3.5 (http://plants.usda.gov). National Plant Data Center, Baton Rouge, LA 70874-4490 USA.
Pinus strobus: Eastern White Pine: University of Connecticut Plant Database of Trees Shrubs and Vines by Mark H. Brand.
Pinus strobus L. (Eastern white pine): Tree Fact Sheets - Virginia Tech: Department of Forestry, College of Natural Resources.
Eastern White Pine: Silvics of North America, Volume 1. United States Department of Agriculture: Forest Service.
Maine Trees & Wildflowers: An introduction to over 140 familiar species of trees, shrubs and wildflowers, by James Kavanagh, 12 pages, Waterford Press; 1st edition (May 1, 2008) Handy little pocket guide (laminated and folded two-sided card with six panels on each side) with little illustrations and descriptions of trees and wildflowers of Maine.
A Field Guide to Trees and Shrubs: Northeastern and north-central United States and southeastern and south-central Canada, by George A. Petrides, 464 pages, Houghton Mifflin; 2 edition (September 6, 1973). This "Peterson Field Guide" offers accounts of 646 species include shape and arrangement of leaves, height, color, bark texture, flowering season, and fruit. Clear, accurate drawings illustrate leaves, flowers, buds, tree silhouettes, and other characteristics.