---
Michigan State Fish
Brook Trout
Salvelinus fontinalis
Adopted:
February 5, 1988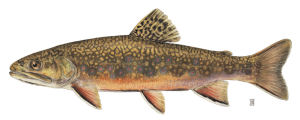 Michigan State Fish: Brook Trout
Courtesy: N.Y. Department of Conservation
Adoption of the Michigan state fish
In 1965, even as the bluegill was being proposed as the state fish in the Michigan House of Representatives, the adoption of the "trout" as the official fish of Michigan was being promoted in the Senate, sponsored by none other than State Senator Terry L. "Troutt."
Seemingly destined for the position, the trout easily dominated the run for "officialdom" with the more significant lobbying effort. Present during the signing of the legislation in 1965 by Governor George Romney, were Dr. Don F. Woomer (Chairman of the Michigan Council for Trout Unlimited), Mary Louise Paxton of Traverse City (National Trout Queen), and Arthur Hutchings of Rochester (National Trout King).
When the time came to document the official fish in brochures and reference materials, it soon became apparent that a major shortcoming of the law was the legislation's failure to specify a particular species of trout. Governor Romney referred this dilemma to the State Conservation Department and the Brook Trout was assigned the job.
The Conservation Department settled on the brook trout. According to a spokesperson for the department, referring to finalists in the selection process,
"Both are fine fish, and you can certainly make a strong argument for either one. Selection of the brook trout in no way puts the laker in an inferior light. Lake trout have made great contributions to Michigan's commercial and sport fishing. The fact that so much money and effort are being expended to restore them in the Great Lakes is proof of the esteem in which they are held.

We had to choose, and the brookie seemed a little the better bet for this particular purpose.

Michigan fishermen are fortunate indeed to have so many species of trout - all of them excellent sport fish - available in the waters of their state. The brook trout will serve as a symbol for them all."1
In 1988, the law was amended to officially recognize the "brook trout" as the "official fish of the State of Michigan."
Michigan Law
The following information was excerpted from the Michigan Revised Statutes, Chapter 2, Section 15.
Chapter 2 State
Section 2.15 STATE FISH
2.15 Brook trout as state fish; use of materials containing reference to trout.
Sec. 1.
(1) The brook trout is designated as the official fish of the state of Michigan.
(2) The state shall make use of all materials previously prepared that contain a reference to the trout as the official fish of the state before it prepares or has prepared new materials that contain a reference to the brook trout as the official fish of the state.
History: 1965, Act 58, Eff. Mar. 31, 1966 ;-- Am. 1988, Act 5, Imd. Eff. Feb. 5, 1988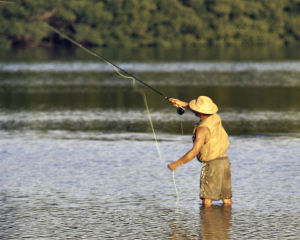 Fly fisherman
Photograph: George Gentry - U.S. Fish & Wildlife Service
Additional Information
Brook Trout Salvelinus fontinalis: Michigan Department of Natural Resources.
Brook Trout, (Salvelinus fontinalis): Michigan Interactive - Outdoor recreation guide.
State fish: Brook trout coloring page.
Salvelinus fontinalis (brook trout): University of Michigan Museum of Zoology: Animal Diversity Web.
Salvelinus fontinalis (Mitchill, 1814): Froese, R. and D. Pauly. Editors. 2008.FishBase. World Wide Web electronic publication. www.fishbase.org, version (12/2008).
Salvelinus fontinalis (Mitchill, 1814): Integrated Taxonomic Information System (ITIS) Here you will find authoritative taxonomic information on plants, animals, fungi, and microbes of North America and the world.
Salvelinus fontinalis: CalPhoto photographs. The Biodiversity Sciences Technology group (BSCIT), a part of the Berkeley Natural History Museums at the University of California, Berkeley.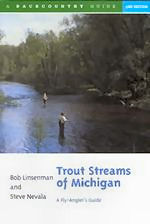 Trout Streams of Michigan
by Bob Linsenman, Steve Nevala
State Fish: Complete list of official state Fish.
More symbols & emblems: Complete list of official Michigan state symbols.
Trout Streams of Michigan: A Fly-Angler's Guide, by Bob Linsenman, Steve Nevala. 336 pages. Backcountry Guides; 2nd edition (May 2001) Michigan's fly-fishing bible -- now revised and expanded with coverage of seven new rivers. With thousands of miles of cold, fertile, and highly oxygenated streams, Michigan is a mecca for trout anglers. In this classic guide to the state, veteran anglers Bob Linsenman and Steve Nevala describe Michigan's best fishing, from its most renowned waters to remote, little-known streams. In this completely revised and updated second edition, coverage of the Au Sable and Manistee Rivers has been expanded. And new for this edition is coverage of the Black, Driggs, Ross, Muskegon, Brandywine, Coldwater, and Pine Rivers.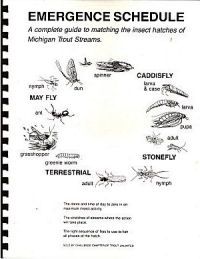 Emergence Schedule
Compiled by John J. P. Long
Michigan Blue-Ribbon Fly Fishing Guide, by Bob Linsenman. 103 pages. Frank Amato Publications (March 19, 2002) Michigan has long been one of the premier destinations for fly-fishers. With its 11,000 inland lakes, over 30,000 miles of rivers and streams, and one of the longest coastlines in the state, there is fishable water everywhere. In this latest edition of the popular all color "Blue-Ribbon" series, Bob Linsenman shares his 50-plus years of exploring fly-fishing in this great state. Gorgeous photography and informative text make this book a must for all those fly-fishers lucky enough to visit of live in this fly-fisher's paradise.
Twelve Classic Trout Streams in Michigan: A Handbook For Fly Anglers, by Gerth E. Hendrickson, Jim DuFresne. 324 pages. University of Michigan Press/Regional; Fully Revised by Jim DuFresne edition (March 28, 2009) DESCRIPTION
Emergence Schedule, A complete guide to matching the insect hatches of Michigan Trout Streams compiled by Trout Unlimited member John J. P. Long. Challenge Chapter, Trout Unlimited (1987) Know your bugs! This complete 90-page guide to matching the insect hatches of Michigan trout streams, with each species detailed on its own page, is a must-have for both the serious and the novice fly fisherman. This excellent schedule provides the angler with the dates and times of day for zeroing in on maximum insect activity, the stretches of stream where the action will take place, and the right sequence of flies to use to fish all phases of the hatch.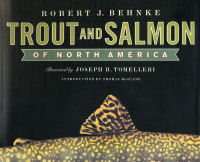 Trout and Salmon of North America
by Robert J. Behnke
Trout and Salmon of North America, by Robert J. Behnke. 384 pages. Free Press (September 24, 2002) Behnke, professor emeritus of fishery and wildlife biology at Colorado State University, has brought his more than 50 years of studying, and fishing for salmon and trout, to wonderful effect. He provides readers with an authoritative compendium of the evolution, biology, ecology, habitats and behaviors of these prized game fish. A capsule legend that includes scientific name, other common names, habitat, size, life span and diet accompanies each entry, amazingly illustrated by Tomelleri, whose fish seem to shimmer on the pages. Habitat maps, which include coastal waters, rivers, streams and lakes, are detailed and specific enough to be taken on fishing excursions. The book includes a good deal of fishing lore, as in the notations that describe the best flies, bait and lures for specific types of fish and locales.
About Trout: The Best of Robert Behnke from Trout Magazine, by Robert J. Behnke. 272 pages. The Lyons Press (September 1, 2007) Behnke brings scientific expertise, a sense of humor and a flair for drama to this collection of 43 essays previously published as his About Trout column in conservation organization Trout Unlimited's Trout magazine. Behnke considers the evolution, historic and current distribution, biological characteristics and defining physical traits of various species of trout and salmon-from the common brown trout and well-known Atlantic salmon to the rare Apache trout and the once-presumed extinct, now-endangered Alvord cutthroat trout.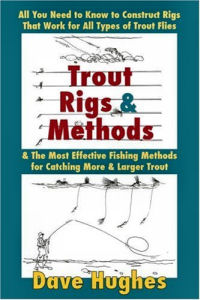 Trout Rigs & Methods
by Dave Hughes
Trout, by Ray Bergman. 576 pages. The Derrydale Press (October 25, 2000) Trout is arguably the finest single volume ever produced on how, why, and where to catch trout. In spite of being originally published in 1938 (Penn Publishing Company), it remains utterly relevant.
Trout Rigs & Methods, by Dave Hughes. 322 pages. Stackpole Books (January 10, 2007) Clear and simple instruction and explanation describes 18 trout rigs and 81 methods to fish them. In moving water: rigs and methods for dry flies and emergers, nymphs, wet flies, streamers, and dry flies and droppers. In stillwater: dry flies and sunk flies.Fly fishers learn the specifics of the rig--types of fly line, lengths and tapers of leader and tippet, the flies, and split shot, putty weight, strike indicators, droppers, point flies, and indicators--and the full array of methods to present the rig to the trout.
Essential Trout Flies, by Dave Hughes. 92 pages. Stackpole Books (April 2000) A core list of flies that will catch trout anywhere, in every season, this collection includes the most important patterns in a wide range of styles, from dry flies to streamers. The tying steps for each pattern are illustrated in step-by-step photos with detailed captions, followed by photos and recipes for the six most useful variations-217 patterns in all. Each chapter features a description of the insect the pattern imitates as well as expert information on how and when to fish the fly.
Trout & Salmon, [ Magazine Subscription ] Features, news on all aspects of game fishing.
Complete line of fishing equipment
including rods, reels, rod and reel combinations, fly fishing gear, bait and spin casting rods and reels, ice fishing equipment, lures and flies, and other accessories. All major brands.
Custom Search