Maine State Fish: Landlocked Salmon
Artwork: Timothy Knepp - U.S. Fish and Wildlife Service
Maine Law
The following information was excerpted from the Maine Revised Statutes, Title 2, Chapter 10.
TITLE 1. GENERAL PROVISIONS.
CHAPTER 9. SEAL, MOTTO, EMBLEMS AND FLAGS.
SECTION 209.
§212. State fish
The state fish shall be the landlocked salmon (Salmo salar Sebago).
[1969, c. 31, (NEW).]
SECTION HISTORY
1969, c. 31, (NEW).
Additional Information
Landlocked Salmon: Inland Fisheries and Wildlife: State of Maine.
Landlocked Salmon: Description from KidsBiology.com.
Fishing in Maine: Department of Inland Fisheries and Wildlife: State of Maine.
Maine Landlocked Salmon Fishing: by Mike Christy. New England Sportsman Network.
Landlocked Salmon: Maine Guides Online.
Salmo salar (Atlantic salmon): University of Michigan Musuem of Zoology: Animal Diversity Web.
Salmo salar Linnaeus, 1758: Froese, R. and D. Pauly. Editors. 2008.FishBase. World Wide Web electronic publication. www.fishbase.org, version (12/2008).
State Fish: Complete list of official state Fish.
More symbols & emblems: Complete list of official Maine state symbols.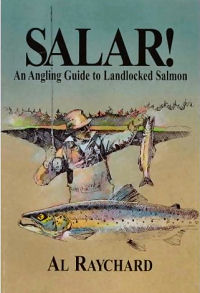 Salar! An Angling Guide to Landlocked Salmon
by Al Raychard
Salar! An Angling Guide to Landlocked Salmon, by Al Raychard. 180 pages. North Country Press (ME) (January 1997) Many outdoorsmen would say that fishing for landlocked salmon is one of the most thrilling fishing challenges there is. As author Raychard says: "This book is a result of years of experimentation, frustration, successes, and failures in a quest to find the thrill that only a salmon can give. Of all the species I have caught, none has excited me quite as deeply as Salmo salar".
Fishing Maine, by Tom Seymour. 200 pages. The Lyons Press; 2nd edition (May 1, 2007) Detailed descriptions of more than eighty fishing hot spots around the state. Each site description includes the species present; the best times to fish; tips on lures, flies, bait, tackle, and techniques; access information; and highly useful maps and photographs.
A Fisherman's Guide to Maine, by Kevin Tracewski. 154 pages. Countrysport Press; 2nd edition (June 25, 2004) A Fisherman's Guide to Maine tells you precisely where, when, and how to catch game fish in Maine. From migrating stiped bass along the south coast to native brook trout in the North Woods, this book provides visiting and resident anglers with all the information they need.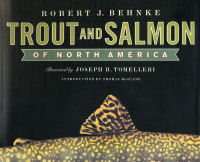 Trout and Salmon of North America
by Robert J. Behnke
Trout and Salmon of North America, by Robert J. Behnke. 384 pages. Free Press (September 24, 2002) Behnke, professor emeritus of fishery and wildlife biology at Colorado State University, has brought his more than 50 years of studying, and fishing for salmon and trout, to wonderful effect. He provides readers with an authoritative compendium of the evolution, biology, ecology, habitats and behaviors of these prized game fish. A capsule legend that includes scientific name, other common names, habitat, size, life span and diet accompanies each entry, amazingly illustrated by Tomelleri, whose fish seem to shimmer on the pages. Habitat maps, which include coastal waters, rivers, streams and lakes, are detailed and specific enough to be taken on fishing excursions. The book includes a good deal of fishing lore, as in the notations that describe the best flies, bait and lures for specific types of fish and locales.
Atlantic Salmon in Maine, by the Committee on Atlantic Salmon in Maine. 304 pages. National Academies Press; illustrated edition edition (September 9, 2004) The populations of Atlantic salmon have declined drastically, from an estimated half million adult salmon returning to U.S. rivers each year in the early 1800s to perhaps as few as 1,000 in 2001. The report recommends implementing a formalized decision-making approach to establish priorities, evaluate options and coordinate plans for conserving and restoring the salmon.
Trout & Salmon, [ Magazine Subscription ] Features, news on all aspects of game fishing.
Complete line of fishing equipment
including rods, reels, rod and reel combinations, fly fishing gear, bait and spin casting rods and reels, ice fishing equipment, lures and flies, and other accessories. All major brands.
Custom Search