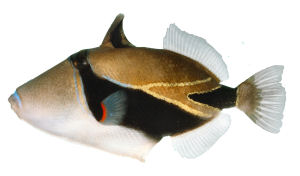 Hawaii State Fish: Humuhumunukunukuapua`a
Credit: Morphbank - Florida State University
Hawaii Law
The following information was excerpted from the Hawaii Revised Statutes, Chapter 5.
CHAPTER 5 - EMBLEMS AND SYMBOLS.
SECTION 5-11.5. State fish.
[§5-11.5] State fish. The Humuhumunukunukuapua`a (Rhinecanthus rectangulus), also known as the rectangular triggerfish, is established and designated as the official fish of the State. [L 2006, c 67, §2]
Additional Information
What is the Hawaii state fish?: Kohala Coast Web Blog Article.
Rhinecanthus rectangulus. humuhumu nukunuku apua'a. wedge triggerfish: Fishes of Kaloka-Honokohau National Historic Park.
Rhinecanthus rectangulus (Bloch and Schneider, 1801): The Encyclopedia of Life dynamically synthesizes biodiversity knowledge about all known species, including their taxonomy, geographic distribution, collections, genetics, evolutionary history, morphology, behavior, ecological relationships, and importance for human well being, and distribute this information through the Internet.
Rhinecanthus rectangulus (Bloch and Schneider, 1801): Integrated Taxonomic Information System (ITIS) Here you will find authoritative taxonomic information on plants, animals, fungi, and microbes of North America and the world.
Rhinecanthus rectangulus: CalPhoto photographs. The Biodiversity Sciences Technology group (BSCIT), a part of the Berkeley Natural History Museums at the University of California, Berkeley.
State Fish: Complete list of official state Fish.
More symbols & emblems: Complete list of official Hawaii state symbols.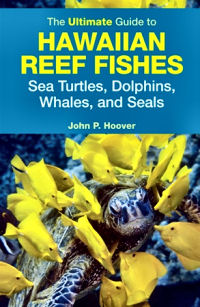 Hawaiian Reef Fishes
by John P. Hoover
The Ultimate Guide to Hawaiian Reef Fishes: Sea Turtles, Dolphins, Whales, and Seals, John P. Hoover. 400 pages. Mutual Publishing; 1 edition (October 1, 2008) Featuring more pictures than any other softcover field guide. Clear underwater photos and scientifically up-to-date descriptions make it easy and fun to identify Hawaiian reef and shore fishes, whales, dolphins and turtles. Excellent resource for snorkelers and divers.
Hawaii's Fishes : A Guide for Snorkelers, Divers, and Aquarists, by John P. Hoover. 181 pages. Mutual Publishing; Second Edition edition (June 1, 2002) This little book is bursting at the seams with good, solid information.... Some of the photos will leave you gasping in disbelief--surely no fish could be so vivid!
Reef Fish Hawaii: Waterproof Pocket Guide, by John P. Hoover. 24 pages. Mutual Publishing (April 1, 2006) he booklet, which identifies over 150 of the most commonly seen fish in Hawaii, is small enough to fit in a pocket or dive bag, has vibrant full-color photos especially formated for underwater viewing.
Corals of Hawaii, by Douglas Fenner. 192 pages. Mutual Publishing (March 8, 2005) Many of the corals in Hawaiian waters are found nowhere else in the world. It is the first guidebook exclusively devoted to Hawaiian corals, presenting nearly 90 species in glowing color of which over 23 species have never been reported before.
Complete line of fishing equipment
including rods, reels, rod and reel combinations, fly fishing gear, bait and spin casting rods and reels, ice fishing equipment, lures and flies, and other accessories. All major brands.
Custom Search