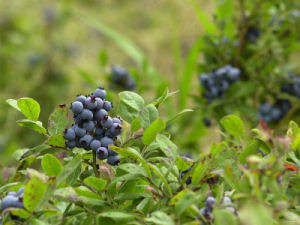 Maine State Berry: Wild Blueberry
Blueberry photographs, prints, and posters
Maine Law
The following information was excerpted from the Maine Revised Statutes, Title 1, Chapter 9, Subchapter 1, Section 219.
Title 1: GENERAL PROVISIONS
Chapter 9: SEAL, MOTTO, EMBLEMS AND FLAGS
Subchapter 1: GENERAL PROVISIONS
SECTION 219.
§219. State berry
The wild blueberry (vaccinium angustifolium, aiton) is the official state berry. [1991, c. 218, (NEW).]
SECTION HISTORY
1991, c. 218, (NEW). 1991, c. 279, §2 (NEW). RR 1991, c. 2, §1 (COR).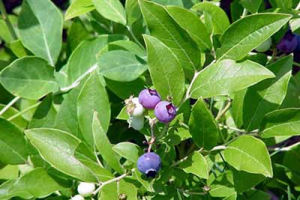 Maine State Berry: Wild Blueberry
Credit: U.S. Fish & Wildlife Service
Additional Information
State Berry - Wild Blueberry: Office of the Maine Secretary of State.
Wild Blueberry FAQ: Wild Blueberry Association of North America.
Vaccinium angustifolium Aiton (Lowbush blueberry): USDA, NRCS. 2009. The PLANTS Database (http://plants.usda.gov, 28 March 2009). National Plant Data Center, Baton Rouge, LA 70874-4490 USA.
Vaccinium angustifolium Ait.: Integrated Taxonomic Information System (ITIS) Here you will find authoritative taxonomic information on plants, animals, fungi, and microbes of North America and the world.
Vaccinium angustifolium: CalPhoto photographs. The Biodiversity Sciences Technology group (BSCIT), a part of the Berkeley Natural History Museums at the University of California, Berkeley.
Wild Blueberries: University of Maine Cooperative Extension.
Blueberries (wild lowbush): The University of Maine Cooperative Extension: Publications Catalog.
State Fruit: Complete list of official state fruits.
More symbols & emblems: Complete list of official Maine state symbols.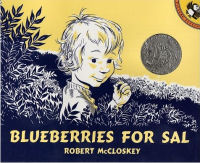 Blueberries for Sal
by Robert McCloskey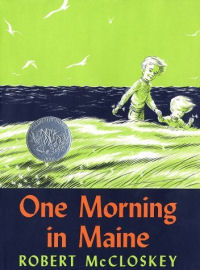 One Morning in Maine
by Robert McCloskey
Blueberries for Sal, by Robert McCloskey. 64 pages. Puffin; illustrated edition edition (September 30, 1976) Reading level: Ages 4-8. "The adventures of a little girl and a baby bear while hunting for blueberries with their mothers one bright summer day. All the color and flavor of the sea and pine-covered Maine countryside."--School Library Journal, starred review. Caldecott Honor Book. Full-color illustrations.
One Morning in Maine, by Robert McCloskey. 64 pages. Viking Press; 1st edition (April 14, 1952) Reading level: Ages 4-8. "As we follow the story of Sal and her lost tooth we feel as refreshed as though we had spent a day with her family on their island".--Saturday Review. Caldecott Honor Book. Full-color illustrations.
Blueberryland: Taming the Maine Wild Lowbush Blueberry, by Walter Staples. 206 pages. Peter E. Randall Publisher; illustrated edition edition (April 1, 2003) A description of an intimate association with the people and the land of the small town of Wesley in Washington County, Maine, a town not unlike every other blueberry growing town in the state. The industry developed over a period of fifty years from berries picked for family use to more than 100 million pounds produced annually and marketed internationally.
Very Blueberry, by Jennifer Trainer Thompson. 92 pages. Celestial Arts (May 2005) Very Blueberry goes beyond the blueberry muffin (though it does include a sublime recipe for it!) and features this essential fruit in innovative new recipes like Goat Cheese Tart with Caramelized Onions and Blueberries; Arugula, Prosciutto, and Blueberry Salad with Honey-Citrus Vinaigrette; Pork Tenderloin with Peach-Blueberry Chutney; and Blueberry Salsa. With this charming, little cookbook, incorporating the recommended half a cup of blueberries into your daily diet will always be a sweet delight.
The Omnivore's Dilemma: A Natural History of Four Meals, by Michael Pollan. 464 pages. Penguin Press HC, The (April 11, 2006) The bestselling author of The Botany of Desire explores the ecology of eating to unveil why we consume what we consume in the twenty-first century
In Defense of Food: An Eater's Manifesto, by Michael Pollan. 256 pages. Penguin Press HC, The (2008) In looking toward traditional diets the world over, as well as the foods our families-and regions-historically enjoyed, we can recover a more balanced, reasonable, and pleasurable approach to food. Michael Pollan's bracing and eloquent manifesto shows us how we might start making thoughtful food choices that will enrich our lives and enlarge our sense of what it means to be healthy.
Garden tools
from Amazon.com!
Custom Search