Thomas Edmund Dewey
Born: March 24, 1902
Place: Owosso, Michigan
Died: March 16, 1971
Place: Bal Harbour, Florida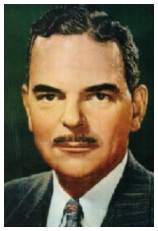 Thomas Edmund Dewey was born on March 24, 1902 in Owosso, Michigan. His father published the local Owosso Times, and kept the family rooted in the Owosso area. As a young boy, Dewey picked up pocket money with odd jobs at local retail stores and farms. He attended local schools, graduating from Owosso's Central High in 1919. During his high school years, he took an interest in debating, drama, and music. At Central High, he was editor-in-chief of the school's yearbook, and became president of his class. He pursued his undergraduate studies at the University of Michigan, receiving his Bachelor's Degree in 1923. Dewey moved on to Columbia University, where he obtained his law degree in 1925. He was admitted to the New York bar the next year.

Dewey's professional career began in 1931, when he became chief assistant to the U.S. attorney for the southern district of New York. Then in 1933 he served as special assistant to U.S. Attorney General Homer Stille Cummings. In 1935 he was tapped for the position of special prosecutor investigating organized crime in New York. Dewey won election as county district attorney in 1937, gaining national prominence as a vigorous prosecutor of organized crime and racketeering. He ran for governor of New York in 1938, but was unsuccessful. In 1942, however, Dewey ran again, and won, successfully winning re-election in 1946 and again in 1950.
In 1944 Dewey was nominated as the Republican presidential candidate. Incumbent Franklin D. Roosevelt was too popular an opponent, however, and easily defeated Dewey for the office. Then in 1948, Dewey was again nominated to run for president, and it looked like he would be victorious, but when the votes were tallied, he was upset by Democrat Harry S. Truman. The upset was a surprise to many who had considered Dewey a shoo-in, and numerous pundits and members of the press were caught off-guard by the election results. The Chicago Daily Tribune had to eat crow when its morning edition declared Dewey the winner, and the photo of Harry S. Truman with the erroneous headline has become a famous symbol of this upset. Dewey never ran for president again, but he did work diligently to help General Dwight D. Eisenhower secure the Republication nomination for president at the 1952 convention. When Dewey's third term as governor came to an end in 1955, he left active politics and returned to his successful private law practice. Thomas Edmund Dewey died in Bal Harbour, Florida on March 16, 1971. Author Thomas Mallon constructed a tale set in Dewey's hometown of Owosso, with Dewey's 1948 election campaign weaving in and out of the plot, in an interesting 1997 novel. Click to purchase Mallon's Dewey Defeats Truman : A Novel and catch the flavor of Owosso, Michigan as public events intertwine with private lives during a hometown son's rise to national prominence.
---