Charles Augustus Lindbergh
Born: February 4, 1902
Place: Detroit, Michigan
Died: August 26, 1974
Place: Maui, Hawaii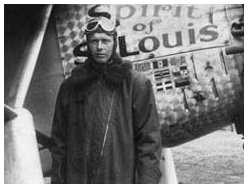 Charles Augustus Lindbergh was born in Detroit, Michigan, on February 4, 1902. He spent his youth on a farm in Little Falls, Minnesota. As he grew up, he acquired a reputation as something of a daredevil, somebody who wanted to understand how things worked, and then to put those theories to the test. He was daring, adventurous, and fascinated with his world. When he was 18, he entered the University of Wisconsin to study mechanical engineering. But Lindbergh found that studying was much less exciting than doing. And what he wanted to do was to fly. So, he left the university and enrolled in a flying school in Lincoln, Nebraska in 1922. A year later, he managed to buy his own plane and began living his dreams, flying solo.

In 1924, Lindbergh enrolled in the U.S. Air Service Reserves as a flying cadet. He excelled as a pilot, and in 1926 he was hired by a St. Louis company to fly the mail between St. Louis and Chicago. But Lindbergh sought more excitement, and he was enticed by a challenge that had been offered years earlier, in 1919, by a wealthy New Yorker. The challenge, worth $25,000, was to become the first aviator to fly non-stop from New York to Paris. Several aviators had attempted to complete the flight, but none had succeeded. Lindbergh got financial backing, and had a special plane built for the adventure. The plane, a Ryan monoplane, was built in San Diego, California, and he christened it the Spirit of St. Louis. First, he piloted the craft from San Diego to New York, stopping in St. Louis. This flight set a new record as he completed the trip in 21 hours and 20 minutes. Then, on May 20, 1927 he hopped into the Spirit of St. Louis, took off from New York, and touched down in Paris on May 21, a trip of 3,600 miles, 33 hours and 32 minutes later. He became an international celebrity. Back in the U.S. he was greeted with parades and honors. Lindbergh's love of aviation did not stop with his transatlantic success. He toured across America, flying into 75 American cities. Then he made a tour of Central America and the West Indies, promoting aviation and extending good will wherever he went. In 1929, Lindbergh married Anne Morrow, and in 1931 the couple flew from Washington to China, a flight that Anne documented in her book North to the Orient. The couple continued to make history as they traveled 30,000 miles on a transatlantic journey in 1933, mapping out air routes for future aviation. Lindbergh's life was not all adventure and positive celebrity, however. In 1932, the Lindbergh's son, Charles, Jr., was kidnapped and murdered. The event was sensationalized by the press, and the Lindbergh's could not escape the constant intrusion of reporters, photographers, and the public. So they moved to Europe, lived in England and France, and traveled to Germany and Russia. Lindbergh admired the aviation advances of the Germans. His praise of the Germans and their air fleet, coupled with his acceptance of an aviation award from the Germans, created quite a stir. He and his family returned to the United States in 1939. But he stirred up controversy again in 1941 when he advocated that the United States should maintain an isolationist policy. He proclaimed that the U.S. should not become involved in World War II, and publicly criticized President Franklin D. Roosevelt's foreign policies. When the Japanese bombed Pearl Harbor, however, he tried to enlist for active duty, but was not accepted. So Lindbergh contributed on the private front, consulting for Ford Motor Company and United Aircraft Corporation. After the war, Lindbergh stayed out of the limelight. He continued to consult for private industry, and lent his aviation expertise to the U.S. Air Force. President Dwight D. Eisenhower appointed him a brigadier general in 1954. Lindbergh won a Pulitzer Prize in 1954 for his book The Spirit of St. Louis, which detailed his 1927 transatlantic flight. He continued to travel throughout his life, and made his home on the Hawaiian island of Maui, where he died on August 26, 1974.

For Hollywood's interpretation of Lindbergh's historic solo transatlantic flight, you should watch The Spirit of St. Louis, a classic video starring James Stewart.
---