The Liberty Bell
Photograph by James Bynum

Welcome to Pennsylvania, the birthplace of independence and the Constitution. In 1681, when King Charles II granted William Penn, a Quaker, the vast tract of land that includes present-day Pennsylvania, the grant had strings attached: Penn was required to repay the king by sending him two beaver pelts a year!

Penn and the Quakers found refuge from religious persecution here, and the land became a haven for others too, including Mennonites and Amish. Primarily of German descent, these "Pennsylvania Dutch" settled in and around Lancaster County. Adhering to a simple way of life, the Pennsylvania Dutch still live in the state's tranquil farmland settings, shunning many of the conveniences of modern America in favor of slower, more peaceful ways. It is common to see a plodding horse and buggy on the state's country roads, driven by plainly-dressed people living a simpler, slower way of life.

Pennsylvania welcomes visitors with open arms, and boasts that over 5 million tourists a year come to the peaceful Lancaster County area to partake of a more relaxed lifestyle, beautiful landscapes, and charmingly hospitable people.

THE NAME:
The name Pennsylvania was specified in the charter given to William Penn by England's Charles II in 1680. The Latin Sylvania meaning "woodlands" was added to Penn to create "Penn's woods."

Source: Shearer, Benjamin F. and Barbara S. State Names, Seals, Flags and Symbols Greenwood Press, Westport, Connecticut - 2001

THE QUARTER: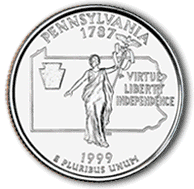 The second state quarter minted in 1999 was that of Pennsylvania, the "Keystone State". Centered on an outline of the state is the statue, "Commonwealth". This statue resides on top of the state capital dome in Harrisburg and has since 1905. One hand is reaching out in friendship while the other hand holds a staff representing justice.
For more on the state commemorative quarters, visit this page.