---
You may double left-click on a word on this page to retrieve its definition.
South Carolina State Tree
Palmetto Tree
Sabal palmetto
Adopted:
March 17, 1939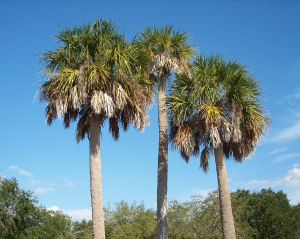 South Carolina state tree: Palmetto Tree
The palmetto is rooted in historical significance dating back to the Revolutionary War. It's said that the British assault on Charleston was denied by the thick palmetto walls of the fort on Sullivan's Island. British cannon balls simply bounced off the dense mass of the palmetto logs.
In today's South Carolina, the palmetto appears on everything from mugs and flip-flops to stationery, glassware, and jewelry. It was prominent in the design of South Carolina's state quarter, minted in 2000.
But the palmetto is also omnipresent in state affairs.
In 1776, the palmetto saw the light of day on the South Carolina coat of arms and is displayed prominently in the state seal of South Carolina.
The nickname, the Palmetto State, surfaced in the first half of the 19th century, over 165 years ago.
When South Carolina seceded from the Union in 1860, the palmetto was added to their state flag, reformulating it as a national flag.
Most recently, South Carolina's nickname was featured in the state's official pledge to the flag: "I salute the flag of South Carolina and pledge to the Palmetto State love, loyalty, and faith."
Back in 1939, when the palmetto was honored as South Carolina's official state tree, it was from a real sense of urgency. It seems that Senator Jeff Bates heard a rumor that another state, unnamed, was about to adopt the palmetto as their official tree. Sen. Bates was determined to claim the tree as South Carolina's own and so crafted and ram-rodded Senate Joint Resolution No. 63 through the legislative process.
No. 63

A JOINT RESOLUTION to Adopt the Palmetto Tree as the Official State Tree of the State of South Carolina.

Whereas, the Palmetto tree has been closely associated with the history of South Carolina, it being represented on our State Flag and our State Seal; and,

Whereas, the State is widely known as the "Palmetto State"; and

Whereas, the State has no officially designated State Tree, and it would be quite appropriate to designate the Palmetto as the State Tree, Now, Therefore

Section 1. Palmetto tree official state tree.--Be it resolved by the General Assembly of the State of South Carolina: That the Palmetto tree is hereby designated and adopted as the official State Tree of the State of South Carolina.

§ 2. This Resolution shall take effect upon its approval by the Governor.

Approved the 17th day of March, 1939.

--------------------------
Governor Burnet R. Maybank applied the finishing touch when he signed Senate Joint Resolution No. 63.
South Carolina Law
The following information was excerpted from The South Carolina Code of Laws, title 1, chapter 1, article 9, section 1-1-660.
Title 1 - Administration of the Government
CHAPTER 1. GENERAL PROVISIONS
ARTICLE 9. STATE EMBLEMS, PLEDGE TO STATE FLAG, OFFICIAL OBSERVANCES
SECTION 1-1-660.
SECTION 1-1-660. Official State tree.
The palmetto tree is hereby designated and adopted as the official tree of the State.
Additional Information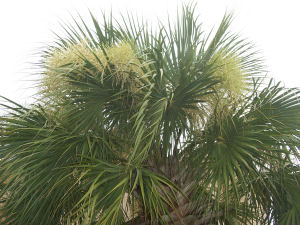 South Carolina state tree: Palmetto Tree
Plants & Edibles: The State Tree: The South Carolina Statehouse: Student Connection.
Palmetto Moon ? Charleston, South Carolina: SCIWAY: South Carolina's Information Highway.
CalPhotos Photo Database: Photographs of Sabal palmetto from CalPhotos, a project of the Biodiversity Sciences Technology group (BSCIT), part of the Berkeley Natural History Museums at UC, Berkley.
Plant Profile for Sabal palmetto (L.) (Walter) Lodd. ex Schult. & Schult. f. (cabbage palmetto): USDA, NRCS. 2004. The PLANTS Database, Version 3.5 (http://plants.usda.gov). National Plant Data Center, Baton Rouge, LA 70874-4490 USA.
Sabal palmetto Species Information: United States Department of Agriculture: Forest Service.
Sabal palmetto - (Walt.) Lodd. ex J.A. & J.H. Schultes, Cabbage Palmetto: A network connecting science with conservation - NatureServe Explorer: An Online Encyclopedia of Life.
Sabal palmetto (Walter) Lodd. ex Schult. & Schult. f.: Integrated Taxonomic Information System (ITIS) Here you will find authoritative taxonomic information on spiders, animals, fungi, and microbes of North America and the world.
Sabal palmetto: Search for images of Sabal palmetto with Google.
State trees: Complete list of official state trees from NETSTATE.COM.
More symbols & emblems: Complete list of official South Carolina state symbols from NETSTATE.COM.


Trees of the Carolinas
Field Guide
Stan Tekiela
Trees of the Carolinas Field Guide, by Stan Tekiela. 332 pages. Publisher: Adventure Publications (May 16, 2007)
Trees are all around, but how much do you know about them? With this famous field guide by award-winning author and naturalist Stan Tekiela, you can make tree identification simple, informative and productive. Learn about 164 North Carolina and South Carolina trees, organized in the book by leaf type and attachment. Fact-filled information contains the particulars that you want to know, while full-page photos provide the visual detail needed for accurate identification. Trees are fascinating and wonderful, and this is the perfect introduction to them.


Native Trees of the Southeast
L. Katherine Kirkman
Claud L. Brown
Donald Joseph Leopold
Native Trees of the Southeast, by L. Katherine Kirkman, Claud L. Brown, and Donald Joseph Leopold. 372 pages. Publisher: Timber Press, Incorporated (June 4, 2007)
The diversity of woody plants in the Southeast is unparalleled in North America. Native Trees of the Southeast is a practical, compact field guide for the identification of the more than 225 trees native to the region, from the Carolinas and eastern Tennessee south through Georgia into northern Florida and west through Alabama, Mississippi, Louisiana, and Arkansas into eastern Texas. For confident identification, nearly 600 photographs, close to 500 of them in color, illustrate leaves, flowers and fruits or cones, bark, and twigs with buds. Full descriptions are accompanied by keys for plants in both summer and winter condition, as well as over 200 range maps. Crucial differences between plants that may be mistaken for each other are discussed.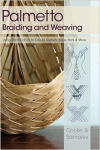 Palmetto Braiding and Weaving
Viva Cooke
Julia Sampley
Palmetto Braiding and Weaving: Using Palm Fronds to Create Baskets, Bags, Hats & More, by Viva Cooke and Julia Sampley. 128 pages. Publisher: Echo Point Books & Media (October 30, 2013)
Palmetto Braiding and Weaving is the definitive book for creating a variety of crafts from palm fronds, straw, rush, and grass. In this well-illustrated volume, artists and authors Viva Cooke and Julia Sampley explore thoroughly one of the most fascinating traditions of the southern United States: palmetto basketry. This tradition of crafts made from palm leaves has been passed on through generations. Palmetto Braiding and Weaving includes techniques and patterns for braiding and weaving-from simple to complex-for a variety of creations. In addition to baskets, Palmetto Braiding and Weaving explains how to make hats, handbags, trimmings, mats, fans, belts, and more.
Palmetto Braiding and Weaving explores a wide array of uses of this native plant. Cooke and Sampley give full instructions for basketry, including samples of popular braids that have been developed and passed on by word-of-mouth, from generation to generation. Instructions are clear and accurate, and samples and finished pieces are shown with drawings and photographs of the authors' creations. The combination of drawings, photographs and thorough instructions make for the perfect how-to resource for palmetto basketry, and are adaptable to the use of other fibers including straw, rush, and grass.