S O U T H C A R O L I N A B O O K S T O R E L O B B Y
Welcome to the South Carolina State Bookstore. We're glad you stopped by and we hope that you find exactly what you're looking for. Shopping categories include books about South Carolina people, books about South Carolina History, South Carolina Cookbooks, Hiking and enjoying the South Carolina outdoors, South Carolina reference books, and calendars, magazines and newspapers, DVD and videos, and posters under MORE. In The South Carolina State Bookstore you will find information about South Carolina for readers of all ages. Age ranges for books for young readers are highlighted in red. Have fun.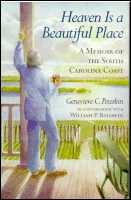 Heaven Is a Beautiful Place: A Memoir of the South Carolina Coast by Genevieve C. Peterkin, William P. Baldwin (Contributor)
Peterkin considers herself blessed to have been raised in Murrells Inlet and celebrates the raw beauty of the South Carolina coast. She shares with readers her insider's knowledge of the Lowcountry plantations, gardens, and beaches that were her heritage and today draw so many visitors. She explains about hurricanes and statuary, seafood restaurants and the right bait for bluefish, and much more. Her stories, along with the folk tales and interviews her mother collected for the Works Progress Administration, celebrate the resiliency and wisdom of Lowcountry African Americans.