---
You may double left-click on a word on this page to retrieve its definition.
New Hampshire State Tree
White Birch
Betula papyrifera
Adopted:
May 22, 1947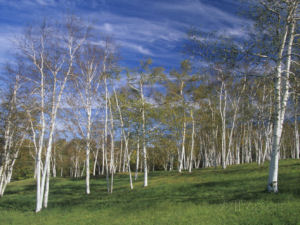 New Hampshire State Tree: White Birch
Photographs, prints, posters
In 1947, at the urging of the New Hampshire Federation of Women's Clubs, Senator J. Guy Smart introduced Senate Bill No. 27 proposing that Betula papyrifera, the white birch, be named the official state tree of New Hampshire.
The legislation flowed through the Senate without incident. There was some talk about the stately elm tree of New Hampshire, but also much concern over the long-term fate of the trees at the hands of Dutch elm disease.
The measure, designating Betula papyrifera the official state tree, received a favorable recommendation from the Senate Judiciary Committee.
The action was taken, Sen. Rae S. Laraba, (R-Portsmouth) explained, largely because of testimony by State Forester John H. Foster that every year his department receives numerous inquiries from out-of-state visitors asking for the name of the state's official tree.
("Senate Votes White Birch as NH State Tree", 1947)
After passage by a vote of the full Senate, the bill was forwarded to the House for consideration.
In the House, Senate Bill No. 27 was passed without incident.
On May 22, 1947, Governor Charles M. Dale signed Senate Bill No. 27 into law. Betula papyrifera was designated the official state tree of New Hampshire. The law went into effect in June.
In December, 1947 Evelyn W. Cortez wrote about the "Queen of the Woods" in the state government booklet New Hampshire Troubadour.
There are several reasons for choosing the white birch for the state tree. Not only is it native to New Hampshire - a first consideration - but it is found in all regions of the state, growing as it does on rich-wooded slopes and along the borders of lakes and streams. It is a characteristic part of the scenery.

The beauty of the white birch is dramatic against the green of other trees. While all birches are sturdy and graceful and may grow tall, the canoe, or white birch sometimes reaches a height of 80 feet. Its bark is chalky to cream white, tinged with yellow, and peels in thin film-like layers. Its leaves are broadly oval on short, stout leaf stalks. The cylindrical fruit spikes usually droop in contrast to the more commonly erect fruit of the other birches.
("State Tree", 1981)
And, of course, the white birch is sometimes called the canoe birch or the paper birch because Indians used its bark to make canoes and for writing paper.
Additional Information

New Hampshire State Tree: White Birch
Photograph: Radomil Binek
New Hampshire Almanac >State Tree: The New Hampshire Almanac is compiled by the New Hampshire State Library from state statutes and other sources as noted.
Birches: Learn About New Hampshire's State Tree: New Hampshire Magazine. A loving look at New Hampshire's official state tree by Jane Wingate.
"Big Tree ? Paper Birch"

: The University of New Hampshire Cooperative Extension.
Paper Birch Betulaceae Betula papyrifera Marsh.: Virginia Tech, College of Natural Resources: Department of Forestry.
Paper Birch Betula papyrifera: Landowner Fact Sheet from Virginia Tech, College of Natural Resources: Department of Forestry.
Betula papyrifera Marsh. (Paper Birch): Silvics of North America: Volume 2 - Hardwoods.
Betula papyrifera: Plants For A Future (PFAF): researching and providing information on ecologically sustainable horticulture.
Betula papyrifera (Paper Birch): USDA, NRCS. 2004. The PLANTS Database, Version 3.5 (http://plants.usda.gov). National Plant Data Center, Baton Rouge, LA 70874-4490 USA.
Betula papyrifera Marsh.: Integrated Taxonomic Information System (ITIS) Here you will find authoritative taxonomic information on plants, animals, fungi, and microbes of North America and the world.
Historic Trees: American Heritage Historic Trees.
Betula papyrifera (Paper Birch): CalPhoto photographs. The Biodiversity Sciences Technology group (BSCIT), a part of the Berkeley Natural History Museums at the University of California, Berkeley.
Betula papyrifera: Search for images of Betula papyrifera with Google.
State trees: Complete list of official state trees from NETSTATE.COM.
More symbols & emblems: Complete list of official New Hampshire state symbols from NETSTATE.COM.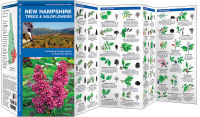 New Hampshire Trees & Wildflowers
James Kavanagh
New Hampshire Trees & Wildflowers: A Folding Pocket Guide to Familiar Species, by James Kavanagh. Folding pamphlet. Publisher: Waterford Press; 1st edition (October 1, 2008)
The state flower - the purple lilac - is one of thousands of species of plants growing in the diverse ecosystems found throughout the Granite State. This beautifully illustrated guide highlights over 140 familiar and unique species of trees, shrubs and wildflowers. A must-have reference, it also includes an ecoregion map featuring prominent botanical sanctuaries that every nature enthusiast should explore. Laminated for durability, this lightweight, pocket-sized folding guide is an excellent source of portable information and ideal for field use by visitors and residents alike.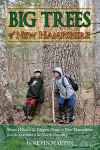 Big Trees of New Hampshire
Kevin Martin
Big Trees of New Hampshire: Short Hikes to the Biggest Trees in New Hampshire from the Seacoast to the North Country, by Kevin Martin. 163 pages. Publisher: Peter E. Randall Publisher (April 2014)
Big Trees of New Hampshire directs you on 28 hikes to find 85 of the largest trees on public land or in cities like Portsmouth, Concord and Nashua. Includes maps, GPS coordinates, and clear directions to help you find the trees. Hikes for all ages and abilities, from easy to adventurous!
A great way to get the family outside for some exercise
Good teaching tool about the benefits trees provide for people and wildlife
Learn about the life cycle, management and caretaking of Big Trees
A big natural reward at the end for those who enjoy geo-caching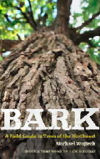 Bark
Michael Wojtech
Bark: A Field Guide to Trees of the Northeast, by Michael Wojtech. 280 pages. Publisher: University Press of New England (April 12, 2011)
Many people know how to identify trees by their leaves, but what about when those leaves have fallen or are out of reach? With detailed information and illustrations covering each phase of a tree?s lifecycle, this indispensable guidebook explains how to identify trees by their bark alone.
Chapters on the structure and ecology of tree bark, descriptions of bark appearance, an easy-to-use identification key, and supplemental information on non-bark characteristics?all enhanced by over 450 photographs, illustrations, and maps?will show you how to distinguish the textures, shapes, and colors of bark to recognize various tree species, and also understand why these traits evolved.
Whether you?re a professional naturalist or a parent leading a family hike, Bark: A Field Guide to Trees of the Northeast is your essential guide to the region?s 67 native and naturalized tree species.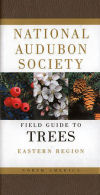 National Audubon Society
Field Guide to Trees
Eastern Region
AUTHOR4
National Audubon Society Field Guide to Trees: Eastern Region, 714 pages. Publisher: Alfred A. Knopf; Chanticleer Press Ed edition (May 12, 1980)
Tree peepers everywhere will enjoy this guide, to trees generally found in states east of the Rocky Mountains, which explore the incredible environment of our country?s forests-including seasonal features, habitat, range, and lore. Nearly 700 species of trees are detailed in photographs of leaf shape, bark, flowers, fruit, and fall leaves ? all can be quickly accessed making this the ideal field guide for any time of year.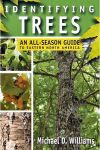 Identifying Trees
Michael D. Williams
Identifying Trees: An All-Season Guide to Eastern North America, by Michael D. Williams. 416 pages. Publisher: Stackpole Books; 1st edition (March 22, 2007)
Identify trees in any season, not just when they are in full leaf. This field-tested guide features color photos showing bark; branching patterns; fruits, flowers, or nuts; and overall appearance; as well as leaf color and shape--all chosen specifically to illustrate trees in spring, summer, winter, and fall. Accompanying text describes common locations and identifying characteristics. Created for in-the-field or at-home use, this guide includes an easy-to-use key that will help you put a name to any tree by flipping only a few pages. Covers every common tree in eastern North America.
Unique identification guide is effective, filled with color photos, and easy to use in winter, spring, summer, and fall
Field-tested by forestry experts


America's Famous
and Historic Trees
Jeffrey G. Meyer
America's Famous and Historic Trees: From George Washington's Tulip Poplar to Elvis Presley's Pin Oak
by Jeffrey G. Meyer. 130 pages. Houghton Mifflin Harcourt; First Edition (April 20, 2001)
America's Famous and Historic Trees tells the stories of various trees that Meyer and his cohorts rescued or propagated: oftentimes, when trees were going to be cut down, he and his workers headed off the bulldozers, rescuing the tree with their massive tree hoe. Other trees--like the Indian Marker Pecan in southeast Dallas--were propagated before they died.
Trees : National Champions
by Barbara Bosworth. 144 pages. The MIT Press; First Edition (August 19, 2005)
Bosworth captures the ineffable grace and dignity of trees with clarity and directness: the green ash that shades a Midwestern crossroads, the common pear that blooms in a Washington field, and the Florida strangler fig with its mass of entwining aerial roots. Her black and white photographs, panoramic views taken with an 8 x 10 camera, show the immensity of the largest species and the hidden triumphs of the smallest
Plants, Seeds & Flowers: Bulbs, seeds, plants, fertilizer, plant containers and more.
Gardening Tools: Pruners, rakes, shovels, hoes, trowels, cultivators and tillers, greenhouses, yard carts and more.