Illinois Native State Tree
| | | |
| --- | --- | --- |
| White Oak | Quercus alba | Adopted:1973 |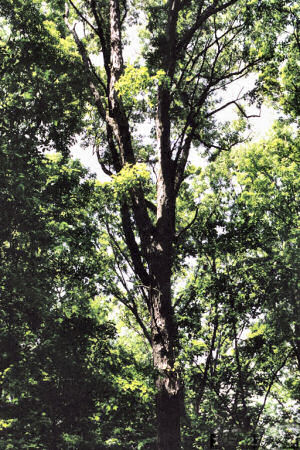 Illinois State Tree: White Oak
Adoption of the Illinois Native State Tree
Rochelle, Illinois (population about 10,000) is located in north-central Illinois about 95 miles west of Chicago and about 25 miles south of Rockford. It's about 170 miles north of the state's capital city, Springfield.
It was in this Ogle County town, in 1907, that Mrs. James C. Fessler began her campaign to establish an official state flower and an official state tree to represent Illinois. Her idea was to put the selection process in the hands of the state's school children and so she approached the local Superintendent of Schools.
Her idea caught on and, in November of 1907, Illinois school children voted for their choice of a flower and a tree to represent their state. In the state tree category, the oak tree garnered the most votes followed by the maple tree and the elm tree.
Oak - 21,897 votes.
Maple - 16,517 votes.
Elm - 5,082 votes.
To make the results of the statewide referendum official, a bill had to be written, submitted to and approved by the Illinois General Assembly in Springfield. State Senator Andrew J. Jackson, of Rockford, introduced the bill to the General Assembly, proposing that the native oak tree be declared the official state tree. By an act of the Illinois General Assembly, the native oak tree was approved as the official state tree of Illinois on February 21, 1908, effective July 1, 1908.
However, depending on your source, there are around 17-20 species of native oak in the State of Illinois. The 1908 law declaring the state tree specified the "native oak". It did not specify a particular variety of native oak tree. Thinking that clarification was in order, Illinois school children (about 900,000) were consulted again. In 1973, 333, 964 school children chose to specify the white oak as the state tree. The northern red oak placed second with 142,247 votes.
In 1973, the 1908 law was amended to name the "white oak" as Illinois' official "native" state tree. Though the 1973 legislation was also less than definitive, it is clear that the General Assembly were referring to Quercus alba, present in all Illinois counties, in their legislation.
The Illinois Compiled Statutes
The following information is excerpted from the Illinois Compiled Statutes, Chapter 5, Section 40.
CHAPTER 5. GENERAL PROVISIONS.
STATE DESIGNATIONS.
(5 ILCS 460/40) (from Ch. 1, par. 2901-40)

Sec. 40. State tree and flower. . The white oak tree is designated the native State tree of the State of Illinois; and the native violet is designated the native State flower of the State of Illinois.
(Source: P.A. 87-273.)
Additional Information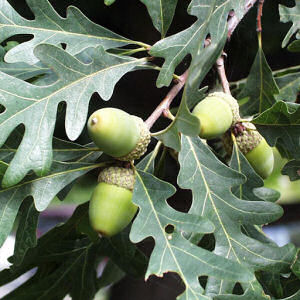 Illinois State Tree: White Oak Fruit (acorns)
Quercus alba: University of Connecticut Plant Database of Trees, Shrubs and Vines.
White Oak (Quercus alba L.): Tree Identification Fact Sheet from the Virginia Tech. Landowner Factsheet
Plant Profile for Quercus alba L. (White Oak): USDA, NRCS. 2004. The PLANTS Database, Version 3.5 (http://plants.usda.gov). National Plant Data Center, Baton Rouge, LA 70874-4490 USA.
Quercus alba L. (White Oak): United States Department of Agriculture: Forest Service: Agriculture Handbook 654: Silvics of North America.
Quercus alba (White Oak): Plant Encyclopedia from MyGardenGuide.
State Tree List: List of all of the state state trees.
Forest Trees of Illinois: (Paperback) by Robert H. Mohlenbrock. Illinois Dept of Natural Resources; 8th edition (December, 1996)
Native Trees Of The Midwest: Identification, Wildlife Value & Landscaping Use: (Hardcover) by Sally S. Weeks, Harmon Patrick Weeks and George R. Parker. Purdue University Press (October 28, 2005)
A Field Guide to Eastern Trees (Peterson Field Guides) (Paperback): by George A. Petrides, Janet Wehr (Illustrator), Roger Tory Peterson (Series Editor), Houghton Mifflin; 2 edition (July 15, 1998).
A Field Guide to Trees and Shrubs : Northeastern and north-central United States and southeastern and south-central Canada (Peterson Field Guides(R)): by George A. Petrides (Illustrator), Roger Tory Peterson (Series Editor), Houghton Mifflin; 2 edition (September 6, 1973).
A Field Guide to Eastern Forests : North America (Peterson Field Guides(R)) (Paperback): by John C. Kricher (Photographer), Gordon Morrison (Illustrator), Roger Tory Peterson (Series Editor), Houghton Mifflin (October 15, 1998).
National Audubon Society Field Guide to North American Trees : Eastern Region: by Elbert Luther Little. Knopf; Chanticleer Press ed edition (May 12, 1980).
America's Famous and Historic Trees: From George Washington's Tulip Poplar to Elvis Presley's Pin Oak (Hardcover) by Jeffrey G. Meyer. America's Famous and Historic Trees tells the stories of various trees that Meyer and his cohorts rescued or propagated: oftentimes, when trees were going to be cut down, he and his workers headed off the bulldozers, rescuing the tree with their massive tree hoe. Other trees--like the Indian Marker Pecan in southeast Dallas--were propagated before they died.
Trees : National Champions (Hardcover) by Barbara Bosworth. Bosworth captures the ineffable grace and dignity of trees with clarity and directness: the green ash that shades a midwestern crossroads, the common pear that blooms in a Washington field, and the Florida strangler fig with its mass of entwining aerial roots. Her black and white photographs, panoramic views taken with an 8 x 10 camera, show the immensity of the largest species and the hidden triumphs of the smallest
Plants, Seeds & Flowers: Bulbs, seeds, plants, fertilizer, plant containers and more.
Gardening Tools: Pruners, rakes, shovels, hoes, trowels, cultivators and tillers, greenhouses, yard carts and more.
State Names, Seals, Flags, and Symbols: A Historical Guide, Third Edition - Benjamin F. Shearer and Barbara S. Shearer, Greenwood Press, 2002
State Names, Flags, Seals, Songs, Birds, Flowers and Other Symbols: A Study based on historical documents giving the origin and significance of the state names, nicknames, mottoes, seals, flowers, birds, songs, and descriptive comments on the capitol buildings and on some of the leading state histories, Revised Edition - George Earlie Shankle, Ph.D., The H.W. Wilson Company, 1938 (Reprint Services Corp. 1971)
---
Source: Illinois Compiled Statutes, October 28, 2005
Source: Ilinois State Museum, October 28, 2005
Source: State Names, Seals, Flags, and Symbols: A Historical Guide, Third Edition - Benjamin F. Shearer and Barbara S. Shearer, Greenwood Press, 2002
Source: State Names, Flags, Seals, Songs, Birds, Flowers and Other Symbols: Revised Edition (Reprint)- George Earlie Shankle, Ph.D., The H.W. Wilson Company, 1938