I L L I N O I S B O O K S T O R E L O B B Y
Welcome to the Illinois State Bookstore. We're glad you stopped by and we hope that you find exactly what you're looking for. Shopping categories include books about Illinois people, books about Illinois History, Illinois Cookbooks, Hiking and enjoying the Illinois outdoors, Illinois reference books, and calendars, magazines and newspapers, DVD and videos, and posters under MORE. In The Illinois State Bookstore you will find information about Illinois for readers of all ages. Age ranges for books for young readers are highlighted in red. Have fun.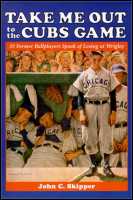 Take Me Out to the Cubs Game: 35 Former Ballplayers Speak of Losing at Wrigley by John C. Skipper
In this book, 35 former Chicago Cubs relive their ballplaying days and speculate on the eternally middling Northsiders. This troop of now-grizzled bears - including Claude Passeau, Hank Wyse, Alvin Dark, Don Kessinger, Joe Niekro, Pete LaCock, and slugger Hank Sauer - holds forth on the front office moves, grueling day-game scheduling and sometimes agonizing play of one of baseball's oldest, unluckiest yet most revered franchises.

Library Journal Review:
The Cubs are baseball's perennial yet lovable losers. Skipper, a newspaper journalist and one-time minor league general manager, is the author of A Biographical Dictionary of the Baseball Hall of Fame. Skipper interviews everyday players (such as Don Kessinger, Dick Ellsworth, etc.) and minor stars (such as Hank Sauer) and supplies a black-and-white photo (from their playing days) and career statistical information with each interview. The book would have benefited from some interviews with Cub Hall of Famers, especially "Mr. Cub," Ernie Banks. The common theme that runs through the book is that the bitter taste of losing evaporates with time but the simple magic and mystique of playing in a beautiful stadium with supportive fans always remains. This book will appeal most to mature baseball fans who soak up baseball nostalgia and should circulate especially well in libraries serving Chicago Cub fans. --Paul Kaplan, Lake Villa Dist. Lib., IL Copyright 2000 Cahners Business Information.