Let's sing of Grand old I-O-Way,
    Yo-Ho, yo-ho, yo-ho
    Our love is strong-er ev-'ry day,
    Yo-Ho, yo-ho, yo-ho
    So come a-long and join the throng,
    Sev-'ral hun-dred thou-sand strong
    As you come just sing this song,
    Yo-Ho, yo-ho, yo-ho

    We're from I-O-way, I-O-way.
    State of all the land,
    Joy on ev-'ry hand.
    We're from I-O-way, I-O-way.
    That's where the tall corn grows

    Our land is full of ripe-ning corn,
    Yo-Ho, yo-ho, yo-ho
    We've watched it grow both night and morn,
    Yo-Ho, yo-ho, yo-ho
    But now we rest, we've stood the test.
    All that's good we have the best
    I-O-way has reached the crest,
    Yo-Ho, yo-ho, yo-ho

    We're from I-O-way, I-O-way.
    State of all the land,
    Joy on ev-'ry hand.
    We're from I-O-way, I-O-way.
    That's where the tall corn grows

    We're from I-O-way, I-O-way.
    State of all the land,
    Joy on ev-'ry hand.
    We're from I-O-way, I-O-way.
    That's where the tall corn grows
About the Song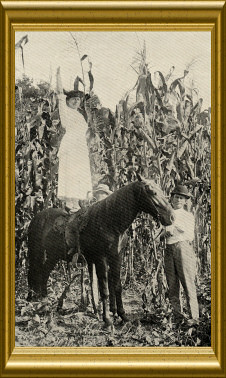 That's Where the Tall Corn Grows!
The song, "The Iowa Corn Song", is not the official state song of Iowa. Though not an official song, some say that the "Iowa Corn Song" is the most widely known and most popular song in the state of Iowa. At least, the chorus is... and if you don't know all the verses, make 'em up! That's part of the fun.
The song was originally conceived, in 1912, when a delegation of Des Moines, Za-Ga-Zig Shriners went to Los Angeles, California to participate in a Shriner's convention. The delegates decided that they needed an exciting marching song that would promote the Iowa delegation and Iowa's most important commodity; Corn. George E. Hamilton, at that time secretary of the Des Moines Chamber of Commerce instigated the project and contributed a first verse and the rousing chorus. The original first verse extolled the virtues of the Shriners. The chorus and other verses were pure Iowa promotion.
Later, help with the song came from the well-known bandleader, Professor John T. Beeston. Mr. Ray Lockard's name appears on the original music as a co-writer of the song.
Over the years, hundreds of additional verses have been written, by George Hamilton, Professor Beeston and many others. One of the traditions that has evolved with the singing of the song is the raising of the arms and hands of the singers simulating "tall corn" when the words, "That's where the tall corn grows" are sung.
NOTE: The Za-Ga_Zig Shrine provides golf cart mini-shuttle service at the Iowa State Fair. Donations benefit the Crippled Children's Hospital and Za-Ga-Zig Shrine Transportation Fund. Golf carts are not available for rent.
---
Source: Iowa Reunion Club, (iowareunionclub.com), May 13, 2005
Source: Iowa State Fair, (www.iowastatefair.org), December 9, 2004