I O W A B O O K S T O R E L O B B Y
Welcome to the Iowa State Bookstore. We're glad you stopped by and we hope that you find exactly what you're looking for. Shopping categories include books about Iowa people, books about Iowa History, Iowa Cookbooks, Hiking and enjoying the Iowa outdoors, Iowa reference books, and calendars, magazines and newspapers, DVD and videos, and posters under MORE. In The Iowa State Bookstore you will find information about Iowa for readers of all ages. Age ranges for books for young readers are highlighted in red. Have fun.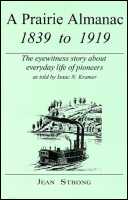 A Prairie Almanac: 1839 to 1919 by Jean Strong (as told by Isaac N. Kramer)
Isaac N. Kramer was seven years old when he traveled west to Iowa. He was eighty-seven when he completed his book manuscript. This book is based on observations, thoughts, and notes made during his long life. He was a pioneer farm boy with a love for gardening. After building Linn County's first greenhouse, he became a successful seedsman and florist. Although his formal education was scant, he never lost his appetite for learning. Isaac's descriptions are extraordinary in detail. He tells about everyday life as he, his family, and other pioneers lived it.

Jean Strong's great, great granduncle Isaac died in 1923 and left behind a wonderful unedited book manuscript that tells of his family's move to Iowa in 1839 when he was seven years old and of the life he and other pioneers carved out of the prairie. You'll feel what Iowa was like in 1839 and you'll find out why Isaac, in his later years, missed the good old days before "these automobile-riding days." We would like to thank Jean Strong for her labors.