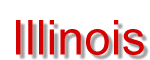 The Great Seal of Illinois
The Great Seal of the State of Illinois features an eagle carrying a shield in its talons. Thirteen stars and thirteen stripes on the shield represent the original thirteen states of the Union. This basic design has survived through several modifications since it was first conceived in 1818, the year that Illinois gained statehood. The date of the state's first constitution, Aug. 26, 1818, appears along the bottom arc of the circle, and 1818, the year of statehood, displays on the seal below 1868, the year the current seal was adopted.
But what about that banner in the eagle's beak? And why is one of the words on the banner upside down? Here's where we get a hint of some intrigue and controversy...
When the banner first appeared on the seal, it read "State Sovereignty, National Union". But then, in 1867, the Secretary of State Sharon Tyndale decided that some changes should be made to the seal. Under Illinois law, the Secretary of State is the guardian of the seal, but changes need to be authorized by the General Assembly. So the Secretary of State approached Senator Allen Fuller with the idea of changing the seal, and the Senator brought the proposal to the General Assembly. Now this was all happening at the time when the Civil War and issues of state's rights were still fresh in the nation's mind, and one of the changes that Tyndale had proposed was a change to the wording on that banner in the eagle's beak. The Secretary's proposal was to have the words on the banner read "National Union, State Sovereignty", instead of "State Sovereignty, National Union". The General Assembly disagreed, and decided that the wording should remain unchanged. So, the Secretary went along with the General Assembly's decision and made the minor changes that were agreed upon... Almost. Perhaps it was a twinkle in the Secretary of State's eye (or maybe a bit of spite?), but the Secretary made one small change to that banner that still exists today -- the word "Sovereignty", which previously was as readable as any of the words on the banner, ended up being turned upside down on the 1868 seal. Intentional? Playful? Spiteful? Who knows?
State Statute.