The Great Seal of the State of Georgia
The Great Seal of the state of Georgia features a symbolic image of the Constitution as an arch that is supported by three pillars. The pillars represent the three branches of government; the legislature, the judicial, and the executive. Banners worded Wisdom, Justice, and Moderation, (Georgia's official motto) hang from the pillars. The principles of the Constitution are symbolically protected by a guardian standing ready with a drawn sword. Circling the images are the words "State of Georgia 1776". In 1914, the legislature decided that 1776, representing the Declaration of Independence, was more appropriate than the 1799 date that formerly displayed on the seal.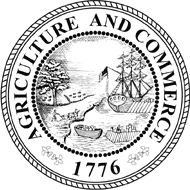 The seal's other side reads "Agriculture and Commerce 1776", and the image is of the seashore with a ship at anchor near a wharf receiving hogsheads of tobacco and bales of cotton, Georgia exports. A small boat can be seen in the distance representing internal traffic. A man is shown plowing in a field and a flock of sheep is shown in the shade of a tree representing the agricultural aspects of the state.
State Statute.