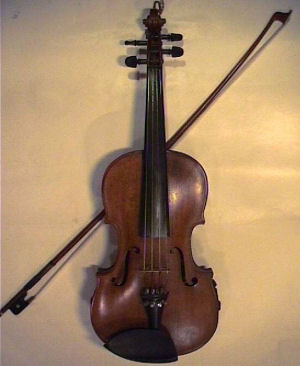 Official State Musical Instrument: Fiddle
Photographs, posters, prints
South Dakota Law
The following information was excerpted from the South Dakota Codified Laws , title 1, chapter 1-6, section 1-6-16.3.
TITLE 1 STATE AFFAIRS AND GOVERNMENT
CHAPTER 1-6 STATE EMBLEMS
1-6-16.3 State musical instrument.
1-6-16.3. State musical instrument. The fiddle is hereby designated as the official state musical instrument of the State of South Dakota.
Source: Source: SL 1989, ch 6.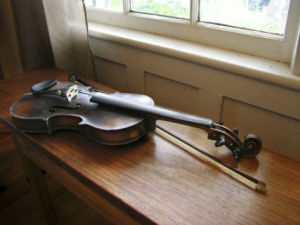 "Pause," by wildlife artist Steve Babecki
Photographs, posters, prints
Additional Information
The History of the Fiddle: Article by Patricia Clark.
The Fiddle Hangout: The mission of the Fiddle Hangout is to become the world's most comprehensive fiddle resource.
FiddleFork Online: FiddleFork is a global online fiddler's community that supports and promotes fiddle music of all styles and enables the exchange of information and dialogue between members in a social platform through an online discussion Forum and other sections of the website.
More symbols & emblems: Complete list of official South Dakota state symbols from NETSTATE.COM.

Fiddler Magazine
Fiddler Magazine, Founded in 1994, Fiddler Magazine is an informative, educational, and entertaining resource for fiddlers, accompanists, and appreciative listeners. Each quarterly issue (now approx. 60 pages each) features a variety of different styles of fiddling, as well as plenty of other articles and columns. Regular columns include: Bluegrass Fiddling, "The Practicing Fiddler," Fiddle Tune History, On Improvisation, Irish Fiddling, Cross-Tuning Workshop, Cross-Canada Fiddle Tour, and reviews of CDs, books, and DVDs. Each issue also includes transcriptions of several tunes.

Old-Time Fiddle for the Complete Ignoramus, Book with Instructional CD by Wayne Erbsen. 80 pages. Publisher: Native Ground Books & Music (September 1, 2005) If you are a total beginner on fiddle, here is the perfect book to learn how to play old-time fiddle. Absolutely no previous experience needed! Wayne's friendly writing style takes you through every step of adjusting, tuning, holding and yes, playing your fiddle. The Appalachian, old-time, bluegrass and folk tunes are written out in Wayne's easy and unique tab system for those who don't read music, and in standard musical notation for those who do. Learning old-time fiddle has never been easier, clearer or more fun. Anyone can do it. Includes instructional CD, plus complete lyrics to all 37 tunes. 9"x 12", 80 pages. This book is guaranteed to help you learn to play old-time fiddle.
The Complete Idiot's Guide to Playing the Fiddle , by Ellery Klein. 288 pages. Publisher: Alpha; Pap/DVD edition (October 7, 2008) Never before has fiddling been so popular—the Riverdance phenomenon, the runaway success of Celtic Woman, and country and bluegrass sensations. Now, anyone can learn to play through the simple, step-by-step lessons provided here by an international expert and professional performer. Illustrated with finger tabs and supported by a unique instructional DVD, this will have budding musicians fiddling in no time. Instructional DVD included. Now play!

The American Fiddle Method, Vol. 1, (Book & CD) by Brian Wicklund. 60 pages. Publisher: Mel Bay Publications (March 21, 2001) Destined to become a classic, this method provides the beginner with the elements needed to become a proficient fiddler. Based on many years of teaching experience, the author introduces the concepts and techniques that yields solid results. This method encourages creativity in the student by including variations to the tunes and illustrating how they can serve as a basis for improvisation. To assist in the development of ensemble skills, chords and lyrics, basic music theory, and demonstrations of such skills as backup and lead playing are included in this profusely- illustrated book. A CD for listening and play-along captures the excitement of the music and aids instruction. This book is beneficial for both fiddle students and classical Suzuki violin students.

Classic
Old-Time Fiddle
Classic Old-Time Fiddle, (Audio CD - 2007) Smithsonian Folkways Recordings.
Old-time fiddler Jake Krack and Folkways archivist Jeff Place compiled and annotated this collection of vintage Southern Appalachian string band music from the Smithsonian archives. Clark Kessinger, Wade Ward, Tommy Jarrell, Marion Sumner, Gaither Carlton, Eck Robertson, Melvin Wine, and many more old-time fiddle masters play their signature sounds from the heart of Appalachia. 32-page booklet, 76 minutes.