New York State Flower
| | | |
| --- | --- | --- |
| Rose | Rosa | Adopted:April 20, 1955 |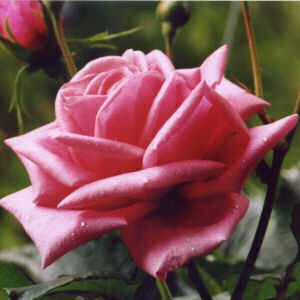 Pink Tea Rose
Adoption of the New York State Flower
Though it's not defined in the 1995 legislation, the rose often associated with the official flower designation is the tea rose, an example of which is shown to the right.
As long ago as 1890, the rose was working its way into the hearts of New York schoolchildren when they voted for their preference for state flower on Arbor Day of that year. This vote was held under the auspices of the State Department of Public Instruction, today's New York State Education Department. First place went to the goldenrod, second place to the rose and third place to the daisy.
Goldenrod - 81,308 votes.
Rose - 79,666 votes.
Daisy - 33,603 votes.
Violet - 31,170 votes.
Pansy - 21,202 votes.
Lily - 16,438 votes.
Lily of the Valley - 11,626 votes.
Trailing arbutus - 7,888 votes.
Buttercup - 6,127 votes.
121 other varieties - 21,045 votes.
According to Superintendent Draper, a total of 318,079 votes were cast, though many districts failed to keep a record of the vote.
Superintendent Draper thought that the vote did not offer a clear winner and so called for a second vote to be taken in the public schools on Arbor Day, 1891. This time, he proclaimed that the vote would be limited to the two flowers with the greatest number of votes in 1890.
On Arbor Day, 1891, the second poll was held. 501,208 votes were cast; over 200,000 more than in the previous year. This time, the rose came out on top.
Rose - 294,816 votes.
Goldenrod - 206,402 votes.
Voters who favored the goldenrod, did so because they considered it a distinctly American flower. Those who opposed goldenrod thought it nothing more than a weed.
New York did not take official action regarding a state flower until 1955 however when, on April 20, the rose was adopted as "the official flower of the state in any color or combination of colors common to it."
The New York Consolidated Laws
The following information is excerpted from the New York Consolidated Laws, State Law, Article 6, Section 75.
STATE LAWS
ARTICLE 6 - ARMS AND GREAT SEAL OF STATE.
SECTION 75.

§ 75. State flower. The rose shall be the official flower of the state in any color or combination of colors common to it.
Additional Information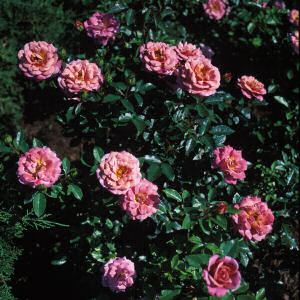 Kaleidoscope Floribunda Rose
Photograph by John Mosesso, Jr./NBII
Rosa (Rose): Plant Encyclopedia from MyGardenGuide.
Plant Profile for Genus Rosa (Rose): USDA, NRCS. 2004. The PLANTS Database, Version 3.5 (http://plants.usda.gov). National Plant Data Center, Baton Rouge, LA 70874-4490 USA.
State Flower List: List of all of the state flowers.
State Birds & Flowers 1000-pc Puzzle: Created at the request of The National Wildlife Federation this design is a beautiful and informative puzzle featuring every state bird perched on the appropriate state flower.
State Birds and Flowers Coloring Book
by Annika Bernhard - 51 accurately detailed, copyright-free renderings include national bird (eagle) and flower (rose) plus 50 state birds and flowers.
U. S. State Flowers in Cross Stitch
by Gerda Bengtsson - Botanically correct cross stitch designs of state flowers of the 50 States.
Quilting Flowers of the States
by Sue Harvey - A lovely 12-inch flower block for each of the 50 states. Techniques used are piecing, appliqué, paper-piecing and three-dimensional techniques.
Plants, Seeds & Flowers
: Bulbs, seeds, plants, fertilizer, plant containers and more.
Gardening Tools
: Pruners, rakes, shovels, hoes, trowels, cultivators and tillers, greenhouses, yard carts and more.
State Names, Seals, Flags, and Symbols: A Historical Guide, Third Edition - Benjamin F. Shearer and Barbara S. Shearer, Greenwood Press, 2002
State Names, Flags, Seals, Songs, Birds, Flowers and Other Symbols: A Study based on historical documents giving the origin and significance of the state names, nicknames, mottoes, seals, flowers, birds, songs, and descriptive comments on the capitol buildings and on some of the leading state histories, Revised Edition - George Earlie Shankle, Ph.D., The H.W. Wilson Company, 1938 (Reprint Services Corp. 1971)
---
Source: Laws of New York, (http://public.leginfo.state.ny.us/menugetf.cgi), August 22, 2005
Source: Facts on File, LLC. "The New York State Flower." The World Almanac 1892. 1st. Copyright Newspaper Enterprise Association, 1892.
Source: State Names, Seals, Flags, and Symbols: A Historical Guide, Third Edition - Benjamin F. Shearer and Barbara S. Shearer, Greenwood Press, 2002
Source: State Names, Flags, Seals, Songs, Birds, Flowers and Other Symbols: Revised Edition (Reprint)- George Earlie Shankle, Ph.D., The H.W. Wilson Company, 1938