New Hampshire State Flower
| | | |
| --- | --- | --- |
| Purple Lilac | Syringa vulgaris | Adopted:May 28, 1919 |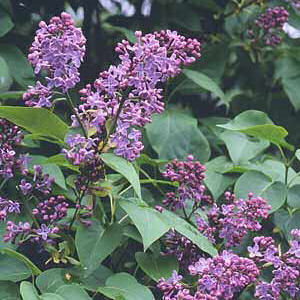 New Hampshire State Flower: Purple Lilac
Adoption of the New Hampshire State Flower
The purple lilac (Syringa vulgaris) was adopted as the state flower of New Hampshire on May 28, 1919.
The New Hampshire Revised Statutes
The following information is excerpted from the New Hampshire Revised Statutes, Title 1, Chapter 3, Section 3:5.
Title I: The State and Its Government.
Chapter 3: State Emblems, Flag, Etc.
SECTION 3:5.

3:5 State Flower. - The purple lilac, Syringa vulgaris, is the state flower of New Hampshire.
Source. 1919, 148:1. PL 8:3. RL 13:3.
Additional Information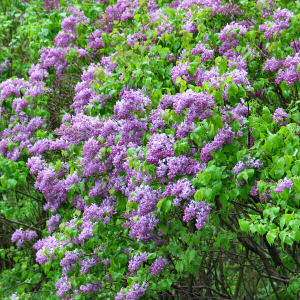 New Hampshire State Flower: Purple Lilac
Syringa vulgaris (Common Lilac): Plant Encyclopedia from MyGardenGuide.
Syringa vulgaris: University of Connecticut Plant Database of Trees, Shrubs and Vines.
Common Lilac (Syringa vulgaris): Tree Identification Fact Sheet from the Virginia Tech.
Plant Profile for Syringa vulgaris (Common Lilac): USDA, NRCS. 2004. The PLANTS Database, Version 3.5 (http://plants.usda.gov). National Plant Data Center, Baton Rouge, LA 70874-4490 USA.
Growing Lilacs: University of New Hampshire Cooperative Extension.

State Flower List: List of all of the state flowers.
Lilacs
A Gardener's Encyclopedia
Lilacs: A Gardener's Encyclopediah, by John L. Fiala and Freek Vrugtman. 416 pages. Publisher: Timber Press; 2nd edition (August 15, 2008) First published in 1988 by award-winning American hybridizer Reverend John Fiala, this unique reference quickly became known worldwide as the lilac lovers' bible. The latest revision combines Fiala's passion for lilacs with the expertise of Canadian plantsman Freek Vrugtman, the international lilac registrar.
The new book provides up-to-date information on the 21 known lilac species and 10 natural hybrids, as well as hundreds of the 2000 named cultivars. Five hundred color photos have been added, including some which show the newest introductions from Russia and Poland. The text addresses practical concerns of selecting, growing, propagating, and using lilacs in the landscape, alone or with companion plants. It also provides fascinating details of the history, origin, and discovery of the species and of the people behind the development of the cultivars. A new chapter on lilacs in art and crafts and an updated list of places where lilacs can be viewed and celebrated complete this rich resource.
Packed with 580 gorgeous color photographs, most of them previously unpublished, Lilacs: A Gardener's Encyclopedia tells the story of a classic spring-flowering shrub cherished for its reliable masses of colorful flowers and sweet fragrance.
State Birds & Flowers 1000-pc Puzzle: Created at the request of The National Wildlife Federation this design is a beautiful and informative puzzle featuring every state bird perched on the appropriate state flower.
State Birds and Flowers Coloring Book
by Annika Bernhard - 51 accurately detailed, copyright-free renderings include national bird (eagle) and flower (rose) plus 50 state birds and flowers.
U. S. State Flowers in Cross Stitch
by Gerda Bengtsson - Botanically correct cross stitch designs of state flowers of the 50 States.
Quilting Flowers of the States
by Sue Harvey - A lovely 12-inch flower block for each of the 50 states. Techniques used are piecing, appliqué, paper-piecing and three-dimensional techniques.
Plants, Seeds & Flowers
: Bulbs, seeds, plants, fertilizer, plant containers and more.
Gardening Tools
: Pruners, rakes, shovels, hoes, trowels, cultivators and tillers, greenhouses, yard carts and more.
State Names, Seals, Flags, and Symbols: A Historical Guide, Third Edition - Benjamin F. Shearer and Barbara S. Shearer, Greenwood Press, 2002
State Names, Flags, Seals, Songs, Birds, Flowers and Other Symbols: A Study based on historical documents giving the origin and significance of the state names, nicknames, mottoes, seals, flowers, birds, songs, and descriptive comments on the capitol buildings and on some of the leading state histories, Revised Edition - George Earlie Shankle, Ph.D., The H.W. Wilson Company, 1938 (Reprint Services Corp. 1971)
---
Source: New Hampshire Revised Statutes, (http://www.gencourt.state.nh.us/rsa/html/indexes/default.html), August 19, 2005
Source: State Names, Seals, Flags, and Symbols: A Historical Guide, Third Edition - Benjamin F. Shearer and Barbara S. Shearer, Greenwood Press, 2002
Source: State Names, Flags, Seals, Songs, Birds, Flowers and Other Symbols: Revised Edition (Reprint)- George Earlie Shankle, Ph.D., The H.W. Wilson Company, 1938