Michigan State Flower
Apple Blossom
Malus

P. Mill.

Adopted:1897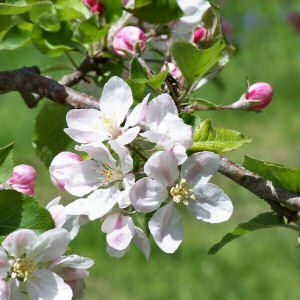 Michigan State Flower: Apple Blossom
Adoption of the Michigan State Flower
William Harris of Norwood introduced the legislation proposing that the apple blossom be adopted as the official state flower of Michigan on February 9, 1897.
Joint Resolution No. 10 noted that apple trees add to "the beauty" of Michigan's landscape and that "Michigan apples have gained a worldwide reputation."
Citing the blossom of the native Michigan Pyrus coronaria (sweet crabapple) as particularly beautiful and fragrant, the legislation does not specify this species as the state flower but refers to the generic apple blossom as the state flower of Michigan.
Michigan adopted the blossom of the apple tree as its state flower by an act of the legislature on April 28, 1897.
Pyrus coronaria is now referred to as Malus coronaria.
The Michigan Compiled Laws
The following information is excerpted from the Michigan Compiled Laws, Chapter 2, Section 2.11.
STATE FLOWER
J.R. 10 of 1897
A JOINT RESOLUTION to designate and adopt a state flower.
2.11 State flower.
WHEREAS, A refined sentiment seems to call for the adoption of a state flower; and
WHEREAS, Our blossoming apple trees add much to the beauty of our landscape, and Michigan apples have gained a worldwide reputation; and
WHEREAS, At least one of the most fragrant and beautiful flowered species of apple, the pyrus coronaria, is native to our state; therefore
Resolved by the Senate and House of Representatives of the State of Michigan, That the apple blossom be and the same hereby is designated and adopted as the state flower of the state of Michigan.
History: 1897, J.R. 10, Imd. Eff. Apr. 28, 1897 ;-- CL 1897, 1755 ;-- CL 1915, 1096 ;-- CL 1929, 133 ;-- CL 1948, 2.11
© 2004 Legislative Council, State of Michigan
Additional Information
Plant Profile (Malus P. Mill.): USDA Natural Resources Conservation Service: Plants Database.
Plant Profile for Malus coronaria (Sweet Crabapple): USDA, NRCS. 2004. The PLANTS Database, Version 3.5 (http://plants.usda.gov). National Plant Data Center, Baton Rouge, LA 70874-4490 USA.
Malus coronaria (Wild Sweet Crabapple): Plant Encyclopedia from MyGardenGuide.
Apple (Genus Malus): Tree Identification Fact Sheet from the Virginia Tech.
Growing Apples in the Home Garden: Michael L. Parker, Extension Horticultural Specialist, Department of Horticultural Science, North Carolina Cooperative Extension Service, North Carolina State University.
Apple: A Modern Herbal by Mrs. M. Grieve.
State Flower List: List of all of the state flowers.
State Birds & Flowers 1000-pc Puzzle: Created at the request of The National Wildlife Federation this design is a beautiful and informative puzzle featuring every state bird perched on the appropriate state flower.
State Birds and Flowers Coloring Book
by Annika Bernhard - 51 accurately detailed, copyright-free renderings include national bird (eagle) and flower (rose) plus 50 state birds and flowers.
U. S. State Flowers in Cross Stitch
by Gerda Bengtsson - Botanically correct cross stitch designs of state flowers of the 50 States.
Quilting Flowers of the States
by Sue Harvey - A lovely 12-inch flower block for each of the 50 states. Techniques used are piecing, appliqu?, paper-piecing and three-dimensional techniques.
Plants, Seeds & Flowers
: Bulbs, seeds, plants, fertilizer, plant containers and more.
Gardening Tools
: Pruners, rakes, shovels, hoes, trowels, cultivators and tillers, greenhouses, yard carts and more.
State Names, Seals, Flags, and Symbols: A Historical Guide, Third Edition - Benjamin F. Shearer and Barbara S. Shearer, Greenwood Press, 2002
State Names, Flags, Seals, Songs, Birds, Flowers and Other Symbols: A Study based on historical documents giving the origin and significance of the state names, nicknames, mottoes, seals, flowers, birds, songs, and descriptive comments on the capitol buildings and on some of the leading state histories, Revised Edition - George Earlie Shankle, Ph.D., The H.W. Wilson Company, 1938 (Reprint Services Corp. 1971)
---
Source: Michigan Compiled Laws, (http://www.legislature.mi.gov/mileg.asp?page=ChapterIndex), July 26, 2005
Source: State Names, Seals, Flags, and Symbols: A Historical Guide, Third Edition - Benjamin F. Shearer and Barbara S. Shearer, Greenwood Press, 2002
Source: State Names, Flags, Seals, Songs, Birds, Flowers and Other Symbols: Revised Edition (Reprint)- George Earlie Shankle, Ph.D., The H.W. Wilson Company, 1938