M I C H I G A N B O O K S T O R E L O B B Y
Welcome to the Michigan State Bookstore. We're glad you stopped by and we hope that you find exactly what you're looking for. Shopping categories include books about Michigan people, books about Michigan History, Michigan Cookbooks, Hiking and enjoying the Michigan outdoors, Michigan reference books, and calendars, magazines and newspapers, DVD and videos, and posters under MORE. In The Michigan State Bookstore you will find information about Michigan for readers of all ages. Age ranges for books for young readers are highlighted in red. Have fun.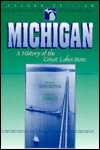 Michigan: A History of the Great Lakes State by Bruce A. Rubenstein, Lawrence E. Ziewacz
This book endeavors to present Michigan's history from the perspective of the people of Michigan. To be sure, there are the accounts of the French and British, the rise of the automobile industry, and the tales of lumbering and mining. This history also intends to go beyond the well-known aspects of the state's development; it intends to tell the story of the people of Michigan. Special emphasis is given to American Indians and their fight to survive in a "white man's world," the struggle for black rights and women's suffrage, and the contributions of white ethnics.