Kansas State Flower & Floral Emblem
| | | |
| --- | --- | --- |
| Wild Native Sunflower | Helianthus | Adopted:1903 |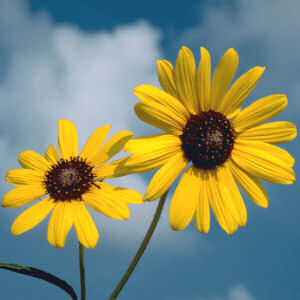 Kansas State Flower and Floral Emblem
Wild Native Sunflower
The Kansas Statutes
The following information is excerpted from the Kansas Statutes, Chapter 73, Article 18, Section 73-1801.
Chapter 73.--SOLDIERS, SAILORS AND PATRIOTIC EMBLEMS.
Article 18.--STATE FLOWER AND FLORAL EMBLEM.
SECTION 73-1801.

73-1801. State flower and floral emblem. WHEREAS, Kansas has a native wild flower common throughout her borders, hardy and conspicuous, of definite, unvarying and striking shape, easily sketched, moulded, and carved, having armorial capacities, ideally adapted for artistic reproduction, with its strong, distinct disk and its golden circle of clear glowing rays -- a flower that a child can draw on a slate, a woman can work in silk, or a man can carve on stone or fashion in clay; and
WHEREAS, This flower has to all Kansans a historic symbolism which speaks of frontier days, winding trails, pathless prairies, and is full of the life and glory of the past, the pride of the present, and richly emblematic of the majesty of a golden future, and is a flower which has given Kansas the world-wide name, "the sunflower state": therefore,
Be it enacted by the Legislature of the State of Kansas: That the helianthus or wild native sunflower is hereby made, designated and declared to be the state flower and floral emblem of the state of Kansas.
History: L. 1903, ch. 479, § 1; June 1; R.S. 1923, 75-3033.
Additional Information
Plant Profile for Helianthus annuus (Common Sunflower): USDA, NRCS. 2004. The PLANTS Database, Version 3.5 (http://plants.usda.gov). National Plant Data Center, Baton Rouge, LA 70874-4490 USA.
State Flower List: List of all of the state flowers.
State Birds & Flowers 1000-pc Puzzle: Created at the request of The National Wildlife Federation this design is a beautiful and informative puzzle featuring every state bird perched on the appropriate state flower.
State Birds and Flowers Coloring Book
by Annika Bernhard - 51 accurately detailed, copyright-free renderings include national bird (eagle) and flower (rose) plus 50 state birds and flowers.
U. S. State Flowers in Cross Stitch
by Gerda Bengtsson - Botanically correct cross stitch designs of state flowers of the 50 States.
Quilting Flowers of the States
by Sue Harvey - A lovely 12-inch flower block for each of the 50 states. Techniques used are piecing, appliqu?, paper-piecing and three-dimensional techniques.
Plants, Seeds & Flowers
: Bulbs, seeds, plants, fertilizer, plant containers and more.
Gardening Tools
: Pruners, rakes, shovels, hoes, trowels, cultivators and tillers, greenhouses, yard carts and more.
State Names, Seals, Flags, and Symbols: A Historical Guide, Third Edition - Benjamin F. Shearer and Barbara S. Shearer, Greenwood Press, 2002
State Names, Flags, Seals, Songs, Birds, Flowers and Other Symbols: A Study based on historical documents giving the origin and significance of the state names, nicknames, mottoes, seals, flowers, birds, songs, and descriptive comments on the capitol buildings and on some of the leading state histories, Revised Edition - George Earlie Shankle, Ph.D., The H.W. Wilson Company, 1938 (Reprint Services Corp. 1971)
---

Source: State Names, Seals, Flags, and Symbols: A Historical Guide, Third Edition - Benjamin F. Shearer and Barbara S. Shearer, Greenwood Press, 2002
Source: State Names, Flags, Seals, Songs, Birds, Flowers and Other Symbols: Revised Edition (Reprint)- George Earlie Shankle, Ph.D., The H.W. Wilson Company, 1938