K A N S A S B O O K S T O R E L O B B Y
Welcome to the Kansas State Bookstore. We're glad you stopped by and we hope that you find exactly what you're looking for. Shopping categories include books about Kansas people, books about Kansas History, Kansas Cookbooks, Hiking and enjoying the Kansas outdoors, Kansas reference books, and calendars, magazines and newspapers, DVD and videos, and posters under MORE. In The Kansas State Bookstore you will find information about Kansas for readers of all ages. Age ranges for books for young readers are highlighted in red. Have fun.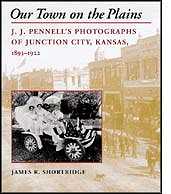 Our Town on the Plains by James R. Shortridge
J. J. Pennell's Photographs of Junction City, Kansas, 1893-1922. Our Town on the Plains reproduces more than one hundred of Pennell's best photographs. Taken from 1893 to 1922, these wonderfully crisp images depict life in Junction City and nearby Fort Riley: people posing with studio props or in front of their homes, group shots of schools and clubs, commissioned photographs of buildings and businesses, public events like parades and unveilings, and ordinary people at work on their farms and in their shops.

These photographs suggest a world of solid civic and personal values, with Pennell's wide-angle lens lending a sense of spaciousness to everyday life. We see a baseball diamond from the late 1800s and a bar so typical of its day it was used in the opening credits of Cheers, images as inspiring as Teddy Roosevelt on the campaign trail or as nostalgic as storefront windows with groceries or corsets. They also depict a time of major transition in American life, as some people pose with their horse and buggy and others with their automobile.