Indiana State Flower
| | | |
| --- | --- | --- |
| Peony | Paeonia | Adopted:1957 |
Adoption of the Indiana State Flower
Indiana has had a long, tumultuous history regarding state flowers, beginning with the adoption of the carnation by Concurrent Resolution in 1913. Amid protests that the carnation was a not native to Indiana, the blossom of the tulip tree was substituted as the state floral emblem by an act of the General Assembly in 1923. The interesting, but decidedly subdued tulip tree blossom gave way to the multi-talented zinnia eight years later in 1931. It was rumored that a certain grower of zinnia seeds in the state was responsible for the 1931 legislation and in 1957, the Indiana General Assembly took up the issue of an official state flower again.
In March, the peony was adopted as the "official state flower of the state of Indiana." This legislation was not without controversy either. A commercial peony grower, also a state representative, is said to have been behind the House move that substituted the peony for the dogwood that had been proposed by a Senate committee.
Adopted on March 15, 1957, Indiana's state flower has also been subject to criticism because it is not native to the state. The peony however, in reds, pinks and white has managed to maintain its position as the official state flower for almost 50 years.
The Indiana Code
The following information is excerpted from the Indiana Code, Title 1, Article 2, Chapter 7, Section 1-2-7.
TITLE 1. GENERAL PROVISIONS.
ARTICLE 2. STATE EMBLEMS.
CHAPTER 7. STATE FLOWER AND TREE.

IC 1-2-7
Chapter 7. State Flower and Tree
IC 1-2-7-1
Tulip tree; peony Sec. 1. The tulip tree (liriodendron tulipifera) is hereby adopted and designated as the official state tree, and the flower of the peony (Paeonia) is hereby adopted and designated as the official state flower of the state of Indiana.
(Formerly: Acts 1931, c.48, s.1; Acts 1957, c.283, s.1.)
Additional Information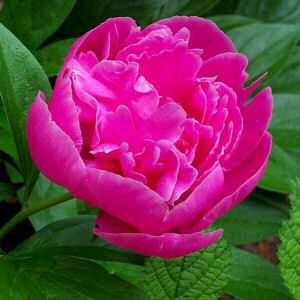 Inidana State Flower: Peony
Paeonia officinalis (Common Peony): Plant Encyclopedia from MyGardenGuide.
Learn About Peonies: Enter the fascinating world of the peony ...at La Pivoinerie D'Aoust.
State Flower List: List of all of the state flowers.
State Birds & Flowers 1000-pc Puzzle: Created at the request of The National Wildlife Federation this design is a beautiful and informative puzzle featuring every state bird perched on the appropriate state flower.
State Birds and Flowers Coloring Book
by Annika Bernhard - 51 accurately detailed, copyright-free renderings include national bird (eagle) and flower (rose) plus 50 state birds and flowers.
U. S. State Flowers in Cross Stitch
by Gerda Bengtsson - Botanically correct cross stitch designs of state flowers of the 50 States.
Quilting Flowers of the States
by Sue Harvey - A lovely 12-inch flower block for each of the 50 states. Techniques used are piecing, appliqu?, paper-piecing and three-dimensional techniques.
Plants, Seeds & Flowers
: Bulbs, seeds, plants, fertilizer, plant containers and more.
Gardening Tools
: Pruners, rakes, shovels, hoes, trowels, cultivators and tillers, greenhouses, yard carts and more.
State Names, Seals, Flags, and Symbols: A Historical Guide, Third Edition - Benjamin F. Shearer and Barbara S. Shearer, Greenwood Press, 2002
State Names, Flags, Seals, Songs, Birds, Flowers and Other Symbols: A Study based on historical documents giving the origin and significance of the state names, nicknames, mottoes, seals, flowers, birds, songs, and descriptive comments on the capitol buildings and on some of the leading state histories, Revised Edition - George Earlie Shankle, Ph.D., The H.W. Wilson Company, 1938 (Reprint Services Corp. 1971)
---
Source: Indiana Code, (http://www.in.gov/legislative/ic/code/), July 11, 2005
Source: Indiana Historical Bureau, (http://www.statelib.lib.in.us/www/ihb/ihb.html), July 11, 2005
Source: State Names, Seals, Flags, and Symbols: A Historical Guide, Third Edition - Benjamin F. Shearer and Barbara S. Shearer, Greenwood Press, 2002
Source: State Names, Flags, Seals, Songs, Birds, Flowers and Other Symbols: Revised Edition (Reprint)- George Earlie Shankle, Ph.D., The H.W. Wilson Company, 1938