I N D I A N A B O O K S T O R E L O B B Y
Welcome to the Indiana State Bookstore. We're glad you stopped by and we hope that you find exactly what you're looking for. Shopping categories include books about Indiana people, books about Indiana History, Indiana Cookbooks, Hiking and enjoying the Indiana outdoors, Indiana reference books, and calendars, magazines and newspapers, DVD and videos, and posters under MORE. In The Indiana State Bookstore you will find information about Indiana for readers of all ages. Age ranges for books for young readers are highlighted in red. Have fun.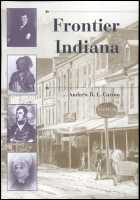 Frontier Indiana by Andrew R. L. Cayton
Most history concentrates on the broad sweep of events, battles and political decisions, economic advance or decline, landmark issues and events, and the people who lived and made these events tend to be lost in the big picture. Cayton's lively new history of the frontier period in Indiana puts the focus on people, on how they lived and how they viewed their world and what motivated them. Here are the stories of, among others, Jean-Baptiste Bissot, Sieur de Vincennes; George Croghan, the ultimate frontier entrepreneur; the world as seen by George Rogers Clark; Josiah Harmar and John Francis Hamtramck; Little Turtle; Anna Tuthill Symmes Harrison and William Henry Harrison; Tenskwatawa; Jonathan Jennings; and Calvin Fletcher.

Focusing his account on these and other representative individuals,Cayton retells the story of Indiana's settlement in a human and compelling narrative which makes the experience of exploration and settlement real and exciting. Here is a book that will appeal to the general reader and scholar alike while going a long way to reinfusing our understanding of history and the historical process with the breath of life itself.

A Choice Outstanding Academic Book of 1997.