---
Double click any word in document for definition.
Vermont State Flag
Vermont State Flag
Adopted:
March 26, 1923
Print Flag Image
Left-click on the image below to print the flag image. A window will be displayed that will allow you to print the image or cancel the print operation. JavaScript must be enabled within your browser.
To learn about how the Vermont state flag came to be adopted, click here.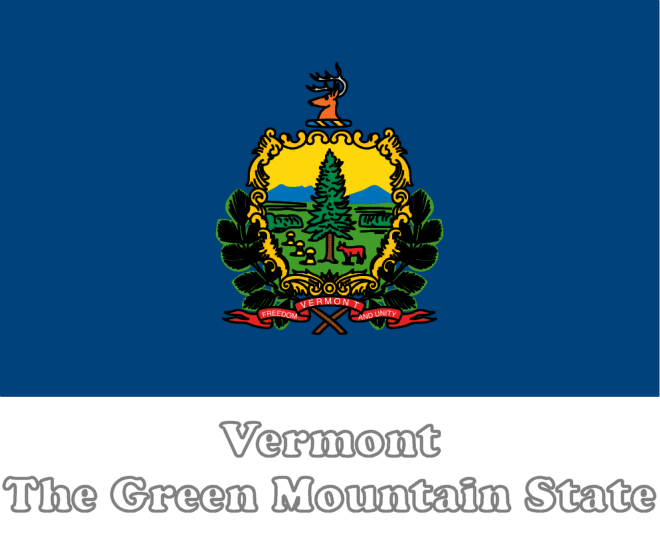 Vermont Law
The following information was excerpted from the Vermont Statutes Annotated, Title 1, Chapter 11, Sections 495-496
TITLE ONE. GENERAL PROVISIONS
CHAPTER 11. FLAG, INSIGNIA, SEAL, ETC.
1 V.S.A. § 495 (2012)
§ 495. State flag
The flag of the state shall be blue with the coat of arms of the state thereon.
1 V.S.A. § 496 (2012)
§ 496. State flags, purchase, distribution
(a) The secretary of state shall, through the department of buildings and general services, obtain state flags and a copy of the Bennington Battle Flag, so-called. He or she may, in his or her discretion and on such terms as he or she finds appropriate, distribute said state flags to other states, to state officials, departments and agencies, and to such other persons as he or she may determine should have them in the interest of the state. He or she shall cause the Bennington Battle Flag to be delivered to the custody of the Sergeant at Arms, to be flown at the State House in Montpelier, under the United States Flag, on the 15th, 16th, and 17th days of August in each year to commemorate the Battle of Bennington.
(b) The secretary of state shall furnish to the division for historic preservation, under this section, one Vermont state flag and one Bennington Battle Flag to be flown at the Bennington Battle Monument Area.
HISTORY: 1961, No. 120, § 1, eff. May 16, 1961; amended 1963, No. 77, §§ 1, 2, eff. May 2, 1963; 1995, No. 148 (Adj. Sess.), § 4(a), eff. May 6, 1996.