HOME
INTRO
SYMBOLS
ALMANAC
ECONOMY
GEOGRAPHY
STATE MAPS
PEOPLE
FORUM
NEWS
COOL SCHOOLS
STATE QUIZ
STATE LINKS
BOOK STORE
MARKETPLACE
NETSTATE.STORE
NETSTATE.MALL
GUESTBOOK
CONTACT US


---
Vermont State flag
Vermont was the fourteenth state to be admitted to the union. It was admitted in 1791. In 1792, Kentucky was admitted to the union. At this time, the United States Flag displayed thirteen stars and thirteen stripes. In 1794, the national Congress changed the official design of the United States Flag to include fifteen stars and fifteen stripes representative of the two new states of the union.
Proud to be a member of the United States, the first Vermont Flag, a state militia flag, was created in October, 1803. Tennessee and Ohio had been admitted to the union at this time and, perhaps anticipating the national Congress, Vermont's first flag was created with seventeen stripes and seventeen stars in the tradition of the U.S. Flag. The word "VERMONT" was spelled out in upper case letters above the stars and stripes. Fifteen years later in 1817, the national Congress stepped back and authorized the current flag design of thirteen stripes and a star for each state.
Vermont went back to the drawing board and authorized a new design on October 20, 1838. This new design continued to align with that of the U.S. Flag. This new design reduced the number of red and white stripes from seventeen to thirteen. Instead of a star for each state, however, the union contained one large white star on a blue field. Within the confines of the star was displayed the Vermont Coat of Arms. This flag remained as the official state flag until 1919.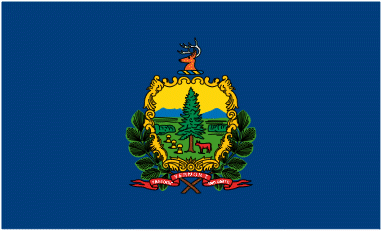 [ LARGE PRINT [ LARGER PRINT ] [ COLOR ME ]
Eventually Vermonters began to desire a more unique state flag that would not be so easily confused with the flag of the United States when hanging from a pole. As the idea for a change became more prominent, it was found that the flag authorized in 1838, was not ever really used to any extent and that not many were even aware of its existence. The flag carried by Vermont regiments in the Civil War, the Spanish American War and at the outbreak of World War I was a flag that displayed the Vermont State Coat of Arms on a blue field. This design had customarily been carried as the Governor's flag.
And so, in 1919, the third Vermont State Flag was authorized. This third design displayed the Vermont State Coat of Arms on a blue field. This is the Vermont State Flag as we know it today.
Vermont Law
The following information was excerpted from the Vermont Statutes Annotated, Title 1, Chapter 11, Sections 495-496
TITLE ONE. GENERAL PROVISIONS
CHAPTER 11. FLAG, INSIGNIA, SEAL, ETC.
1 V.S.A. § 495 (2012)
§ 495. State flag
The flag of the state shall be blue with the coat of arms of the state thereon.
1 V.S.A. § 496 (2012)
§ 496. State flags, purchase, distribution
(a) The secretary of state shall, through the department of buildings and general services, obtain state flags and a copy of the Bennington Battle Flag, so-called. He or she may, in his or her discretion and on such terms as he or she finds appropriate, distribute said state flags to other states, to state officials, departments and agencies, and to such other persons as he or she may determine should have them in the interest of the state. He or she shall cause the Bennington Battle Flag to be delivered to the custody of the Sergeant at Arms, to be flown at the State House in Montpelier, under the United States Flag, on the 15th, 16th, and 17th days of August in each year to commemorate the Battle of Bennington.
(b) The secretary of state shall furnish to the division for historic preservation, under this section, one Vermont state flag and one Bennington Battle Flag to be flown at the Bennington Battle Monument Area.
HISTORY: 1961, No. 120, § 1, eff. May 16, 1961; amended 1963, No. 77, §§ 1, 2, eff. May 2, 1963; 1995, No. 148 (Adj. Sess.), § 4(a), eff. May 6, 1996.
---
Sources...
"Vermont Statutes Annotated." LexisNexis, a division of Reed Elsevier Inc.. LexisNexis, a division of Reed Elsevier Inc., n.d. Web. 20 Feb 2012. .
Howe, Randy. Flags of the Fifty States and Their Incredible Histories: The Complete Guide to America's Most Powerful Symbols. he Lyons Press; First edition edition, November 1, 2002.
Shankle, George Earlie. State Names, Flags, Seals, Songs, Birds, Flowers, and Other Symbols. Reprint Services Corp; Revised edition (June 1971).
Shearer, Benjamin F. and Barbara S. State Names, Seals, Flags and Symbols: A Historical Guide Third Edition, Revised and Expanded. Westport, Conn: Greenwood Press, 3 Sub edition, 2001.
---
Additional Information
Flag Terminology: The parts of a flag and terms associated with its design.
The Vermont State Flag: Condensed from an article entitled "History of the State Flag" by Herbert T. Johnson, Adjutant General, 1951 VERMONT LEGISLATIVE DIRECTORY.
Vermont (U.S.): FOTW "Flags of the World" Web Site.
State Flags: Complete list of state flags with links to large pictures and images suitable for coloring from NETSTATE.COM.
More Vermont symbols & emblems: Complete list of official Vermont state symbols from NETSTATE.COM.


The Nifty Fifty
State Flags
Paul Beatrice &
Paul Rodhe
The Nifty Fifty State Flags, by Paul Beatrice & Paul Rodhe. 16 pages. Publisher: Applesauce Press (May 6, 2008) Reading level: Ages 9-12. Here comes another Nifty Fifty and all across America, children will cheer for their own home state and its flag, while discovering fun facts about all the other states. The engaging and entertaining gift set features a 16-page booklet, 50 cards, a map of the USA, and a pad with colored paper so kids can design their own flag. Each of the colorful cards displays a state flag, while the opposite side has detailed information on why it looks the way it does, what some of the flag's symbols mean, and odd facts about that state. Kids will love finding out about towns with silly names (including Belchertown, Massachusetts and Bummerville, California), as well as unusual laws, cool sites to visit, and other great state stuff like its official song, dance, animal, and mineral. Many of the cards also feature entertaining family activities to try!


How Proudly They Wave
Rita D. Haban
How Proudly They Wave, by Rita D. Haban. 111 pages. Publisher: Lerner Publishing Group (April 1989) Reading level: Grade 5+. A good reference source about the state flags, giving descriptions and illustrations for all 50 flags. Arranged alphabetically, each state is given a facing page spread. Illustrations are in color, and the one to one-and-a-half page text for each flag provides a little of the state's history as well as the history, background, and evolution of the current flag. Haban often describes how many states have changed their flags, but only the current flag is pictured. One flaw is the lack of an in-depth discussion or illustration of the U. S. flag, of interest because many of the states incorporated parts of the national flag into their own designs. In spite of this, the text is clear and easy to understand, and the illustrations are very well done. Terms describing the parts of a flag are in bold type and defined in the glossary.


Flags
of the Fifty States
Randy Howe
Flags of the Fifty States and their Incredible Stories, by Randy Howe. 208 pages. Publisher: Lyons Press; Second edition (November 10, 2009) Flags of the Fifty States is an indispensable historical reference and a fascinating, beautiful pictorial guide to the rich diversity of America's fifty states. It provides a colorful way to learn about how the United States grew and prospered and shaped itself and its banners over the years.
Visit Our Flag Shop: Purchase all kinds of flags and banners, lapel pins, 50 state flag sets, decals, patches, college banners at the Flag Shop.