HOME
INTRO
SYMBOLS
ALMANAC
ECONOMY
GEOGRAPHY
STATE MAPS
PEOPLE
FORUM
NEWS
COOL SCHOOLS
STATE QUIZ
STATE LINKS
BOOK STORE
MARKETPLACE
NETSTATE.STORE
NETSTATE.MALL
GUESTBOOK
CONTACT US


---
Double click any word in document for definition.
New Hampshire State Flag
New Hampshire State Flag
Adopted:
May 1, 1931
Print Flag Image
Left-click on the image below to print the flag image. A window will be displayed that will allow you to print the image or cancel the print operation. JavaScript must be enabled within your browser.
To learn about how the New Hampshire state flag came to be adopted, click here.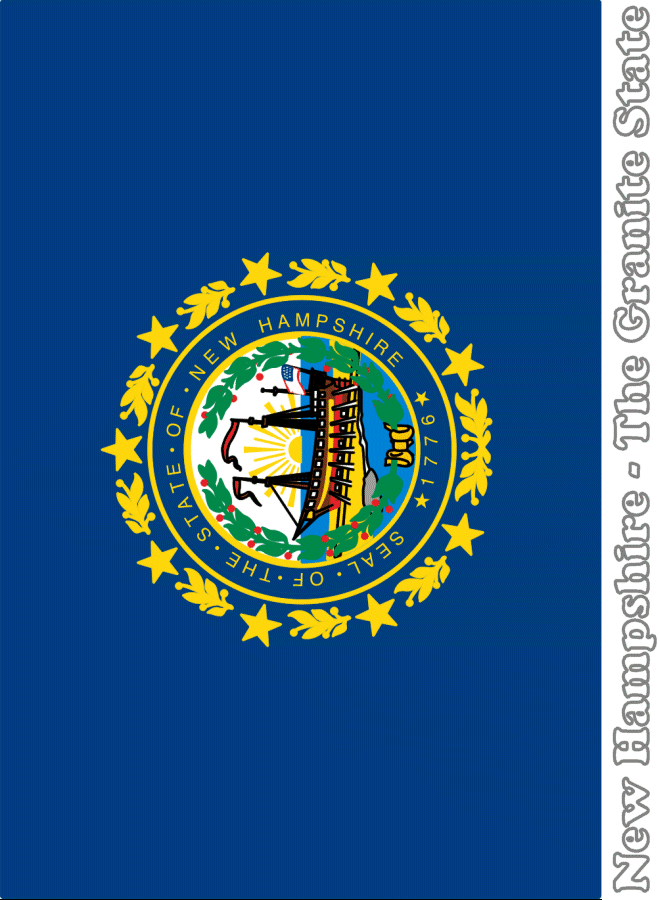 New Hampshire Law
The following information was excerpted from the New Hampshire Statutes, Title 1, Chapter 3, Section 2.
TITLE I: THE STATE AND ITS GOVERNMENT
CHAPTER 3: STATE EMBLEMS, FLAG, ETC.
Section 3:2 State Flag.
3:2 State Flag. The state flag shall be of the following color and design: The body or field shall be blue and shall bear upon its center in suitable proportion and colors a representation of the state seal. The seal shall be surrounded by a wreath of laurel leaves with nine stars interspersed. When used for military purposes the flag shall conform to the regulations of the United States.
Source. 1909, 16:2. PL 8:1. 1931, 133:1. RL 13:1.