HOME
INTRO
SYMBOLS
ALMANAC
ECONOMY
GEOGRAPHY
STATE MAPS
PEOPLE
FORUM
NEWS
COOL SCHOOLS
STATE QUIZ
STATE LINKS
BOOK STORE
MARKETPLACE
NETSTATE.STORE
NETSTATE.MALL
GUESTBOOK
CONTACT US


---
Double click any word in document for definition.
Connecticut State Flag
Connecticut State Flag
Adopted:
September 9, 1897
Print Flag Image
Left-click on the image below to print the flag image. A window will be displayed that will allow you to print the image or cancel the print operation. JavaScript must be enabled within your browser.
To learn about how the Connecticut state flag came to be adopted, click here.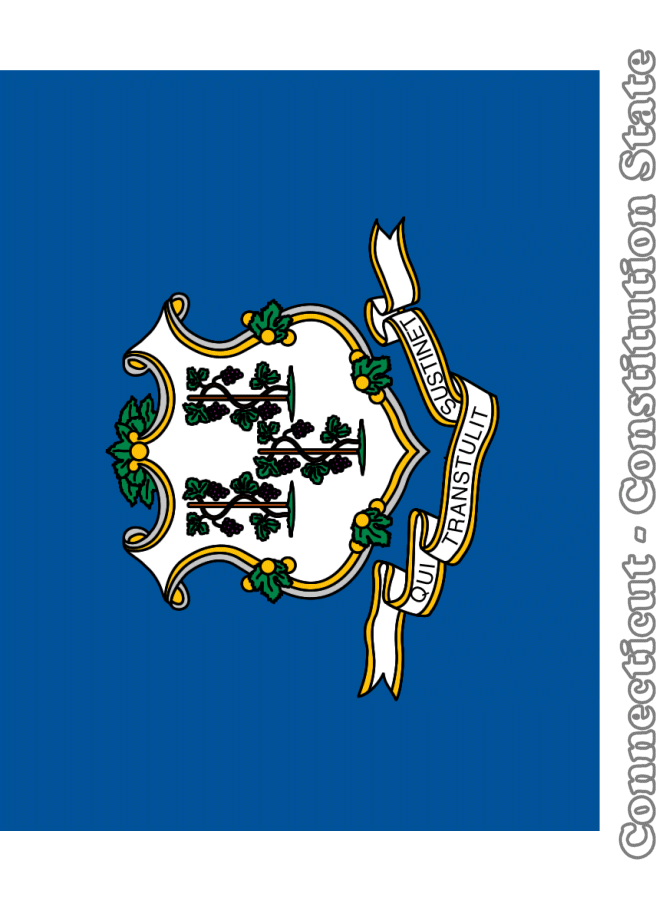 Connecticut Law
The following information was excerpted from the General Statutes of Connecticut, Title 1, Chapter 33.
TITLE 3. STATE ELECTIVE OFFICERS.
CHAPTER 33. SECRETARY.
Sec. 3-107. State flag. The following-described flag is the official flag of the state. The dimensions of the flag shall be five feet and six inches in length, four feet and four inches in width. The flag shall be azure blue, charged with an argent white shield of rococo design, having in the center three grape vines, supported and bearing fruit in natural colors. The bordure to the shield shall be in two colors, gold on the interior and silver on the exterior, adorned with natural-colored clusters of white oak leaves (Quercus alba) bearing acorns. Below the shield shall be a white streamer, cleft at each end, bordered by a band of gold within fine brown lines, and upon the streamer in dark blue block letters shall be the motto "QUI TRANSTULIT SUSTINET"; the whole design being the arms of the state.
(1949 Rev., S. 3581; P.A. 90-156, S. 2.)
History: P.A. 90-156 amended description of the state flag.