C O N N E C T I C U T B O O K S T O R E L O B B Y
Welcome to the Connecticut State Bookstore. We're glad you stopped by and we hope that you find exactly what you're looking for. Shopping categories include books about Connecticut people, books about Connecticut History, Connecticut Cookbooks, Hiking and enjoying the Connecticut outdoors, Connecticut reference books, and calendars, magazines and newspapers, DVD and videos, and posters under MORE. In The Connecticut State Bookstore you will find information about Connecticut for readers of all ages. Age ranges for books for young readers are highlighted in red. Have fun.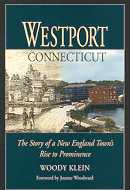 Westport, Connecticut: The Story of a New England Town's Rise to Prominence by Woody Klein
This book tells the story of how Westporters from all walks of life share one common characteristic: a generations-old love of community. A town settled by farmers and fishermen, diversified by immigrants from many countries and varied economic backgrounds, Westport was modernized by professionals in all fields and enriched by international celebrities from around the nation and the world. Westport, Connecticut offers the reader an entertaining insight into how Westport has become a mecca for those who are traditionally untraditional. This is the first comprehensive, in-depth history of a town celebrated throughout the nation and the world. It brings history alive not only for its own residents, but for those who live in distant places who want to learn about one of the finest examples of how the quest for excellence, for a community spirit and for volunteerism can succeed in America.

Ideally located on a rich landscape and the water of Long Island Sound, it was formed when dissident members of the original Massachusetts Bay Colony seeking new frontiers for themselves and their families successfully won the Swamp War in the early 1600s against the Pequot Indians. Westport was incorporated in 1835 as a result of a strong grass-roots democratic movement toward self-reliance and independence. Parishioners of the Green's Farm Church petitioned the legislature in Hartford and formed their own community by acquiring land from nearby Fairfield, Norwalk, and Weston.