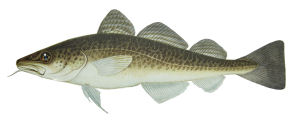 Massachusetts State Fish: Cod
Credit: N. N. Kondakov
Russian Fed. Research Institute of Fishery & Oceanography
Massachusetts Law
The following information was excerpted from the Massachusetts Revised Statutes, Part 1, Title 1, Chapter 2.
PART I. ADMINISTRATION OF THE GOVERNMENT.
TITLE I. JURISDICTION AND EMBLEMS OF THE COMMONWEALTH, THE GENERAL COURT, STATUTES AND PUBLIC DOCUMENTS.
CHAPTER 2. ARMS, GREAT SEAL AND OTHER EMBLEMS OF THE COMMONWEALTH.
SECTION 13.
Chapter 2: Section 13. Fish or fish emblem of commonwealth
Section 13. The cod shall be the fish or fish emblem and the historic and continuing symbol of the commonwealth.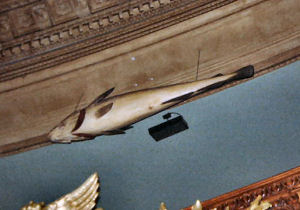 The Sacred Cod: Massachusetts House of Representatives
Additional Information
State fish or fish emblem: Secretary of the Commonwealth: Citizen Information Service - Massachusetts Facts.
Species Profile: Atlantic Cod: Massachusetts Department of Fish and Game: Division of Marine Fisheries.
Gadus morhua Atlantic Cod: Description from MarineBio.org.
Gadus morhua (Atlantic cod): University of Michigan Museum of Zoology: Animal Diversity Web.
Gadus morhua Linnaeus, 1758: Integrated Taxonomic Information System (ITIS) Here you will find authoritative taxonomic information on plants, animals, fungi, and microbes of North America and the world.
Gadus morhua Linnaeus, 1758: Froese, R. and D. Pauly. Editors. 2009.FishBase. World Wide Web electronic publication. www.fishbase.org, version (01/2009).
Division of Marine Fisheries: Massachusetts Department of Fish and Game.
State Fish: Complete list of official state Fish.
More symbols & emblems: Complete list of official Massachusetts state symbols.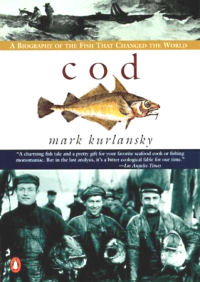 Cod
by Mark Kurlansky
Cod: A Biography of the Fish That Changed the World, by Mark Kurlansky. 304 pages. Penguin (Non-Classics) (July 1, 1998) In this engaging history of a "1000-year fishing spree," Kurlansky (A Continent of Islands: Searching for the Caribbean Destiny, LJ 1/92) traces the relationship of cod fishery to such historical eras and events as medieval Christianity and Christian observances; international conflicts between England and Germany over Icelandic cod; slavery, the molasses trade, and the dismantling of the British Empire; and, the evolution of a sophisticated fishing industry in New England.
The Last Fish Tale, by Mark Kurlansky. 304 pages. Ballantine Books; 1 edition (June 3, 2008) A delightful, intimate history and contemporary portrait of the quintessential northeastern coastal fishing town: Gloucester, Mass., on Cape Anne. Illustrated with his own beautifully executed drawings, Kurlansky's book vividly depicts the contemporary tension between the traditional fishing trade and modern commerce, which in Gloucester means beach-going tourists. One year ago, a beach preservation group enraged fishermen by seeking to harvest 105 acres of prime fishing ground for sand to deposit on the shoreline.
Saltwater Fishing Made Easy, by Martin Pollizotto. 384 pages. International Marine/Ragged Mountain Press; 1 edition (March 10, 2006) This authoritative guide will help you bring in bigger and better fish every time you cast your line. Saltwater Fishing Made Easy is your all-in-one resource for fishing methods and techniques, tackle and bait, and, most important, the fish themselves.
Ken Schultz's Field Guide to Saltwater Fish, by Ken Schultz. 288 pages. Wiley (December 29, 2003) Before you head out to the open seas, listen up: Your tackle box is not complete without Ken Schultz's Field Guide to Saltwater Fish! Written by one of the foremost experts in sportfishing, this colorful reference provides anglers and fish enthusiasts of all levels an easy-to-use, indispensable guide to help you identify and learn about the most common species found off the North American coastlines-from albacore to yellowtail.
Ken Schultz's Fishing Encyclopedia, by Ken Schultz. 1760 pages. Wiley; 1 edition (November 1, 1999) Ken Schultz's Fishing Encyclopedia is the new standard for knowledge on fishing and everything related to it. With complete, insightful information for both freshwater and saltwater anglers at all levels of experience, it is the only authoritative, and up-to-date fishing encyclopedia available. More than 2,000 detailed entries and over 1,400 color illustrations and photos cover every aspect of fishing today, including fish species, equipment, places, techniques, and a wide array of other information.
Complete line of fishing equipment
including rods, reels, rod and reel combinations, fly fishing gear, bait and spin casting rods and reels, ice fishing equipment, lures and flies, and other accessories. All major brands.
Custom Search