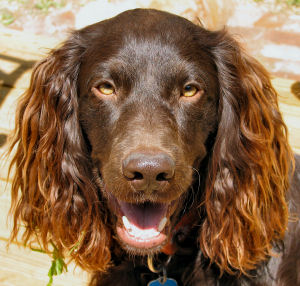 South Carolina State Dog: Boykin Spaniel
Additional Information
The Boykin Spaniel: The Boykin Spaniel Society, Camden, S.C. Official Registry for the Boykin Spaniel.
History of The Boykin Spaniel: The Boykin Spaniel Club and Breeders Association of America: The Official AKC Parent Club of the Boykin Spaniels.
AKC MEET THE BREEDS®: Boykin Spaniel: American Kennel Club.
Boykin Spaniel Rescue, Inc. (BSR, Inc.): Official website.
Canis lupus familiaris (Dog): The University of Michigan Museum of Zoology: Animal Diversity Web.
Canis lupus familiaris (Linnaeus, 1758) : Integrated Taxonomic Information System (ITIS) Here you will find authoritative taxonomic information on plants, animals, fungi, and microbes of North America and the world.
State dogs: Complete list of official state dogs and dog breeds from NETSTATE.COM.
State mammals: Complete list of official state mammals from NETSTATE.COM.
More symbols & emblems: Complete list of official South Carolina state symbols from NETSTATE.COM.


The First
Boykin Spaniels
Lynn Kelley
The First Boykin Spaniels: The Story of Dumpy and Singo, by Lynn Kelley. 99 pages. July 15, 2012. Reading level: Ages 3-10. A great book about South Carolina's state dog.

The Boykin Spaniel
The Boykin Spaniel: South Carolina's Dog, by Mike Creel and Lynn Kelley. 240 pages. November 26, 2009. Since the origin of the breed in the early twentieth-century, the Boykin spaniel has proven to be a crackerjack retriever, remarkable trick artist, and a family favorite. This revised edition of The Boykin Spaniel: South Carolina's Dog by breed enthusiasts Mike Creel and Lynn Kelley is written for all lovers of the Palmetto State's famous little brown sporting dog and chronicles the breed's history, profiles the dog's distinctive personality, describes its sterling abilities, and records the fond memories of a distinguished cast of trainers and owners.
Creel and Kelley offer an unparalleled resource for breed owners and devotees as well as a celebration of this home-grown hunter and companion, truly a dog for all seasons. Their heavily illustrated revised and updated edition also includes the breed standard, lists of award-winning dogs and owners, and a comprehensive bibliography of the breed.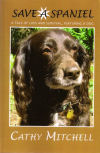 Save a Spaniel
Cathy Mitchell
Save a Spaniel, by Cathy Mitchell. 268 pages. Publisher: CreateSpace (November 23, 2009) This novel follows a rescue dog as she travels to a permanent and loving home and a job as a therapy dog in a nursing home. Grounded in studies of dog behavior and psychology, the book starts at an animal shelter in upstate South Carolina, where Star, a Boykin Spaniel, faces euthanasia, and follows her through rescue and into homes in Columbia, SC; Atlanta, GA; Ocracoke, NC and Asheville, NC. It describes, unsentimentally, the challenges a rescue dog faces while adapting to new owners.

Before & After
Getting Your Puppy
Dr. Ian Dunbar
Before & After Getting Your Puppy, by Dr. Ian Dunbar. 224 pages. New World Library (April 29, 2004) In this compassionate and honest volume, the veterinarian shares his definitive opinions about the way dogs should be trained. Before & After Getting Your Puppy is a simple, practical guide for anyone bringing a new puppy into the family. In clear steps, with helpful photos and easy-to-follow training deadlines, Dr. Ian Dunbar, who pioneered puppy classes and a loving style of dog training in the 1970s, presents a structured yet playful and humorous plan for raising a wonderful dog. The guide is based on six developmental deadlines.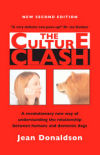 The Culture Clash
Jean Donaldson
The Culture Clash, by Jean Donaldson. 224 pages. Publisher: James & Kenneth Publishers (January 19, 1996) The Culture Clash is special. It is utterly unique, fascinating to the extreme, and literally overflowing with information that virtually redefines the state of the art in dog behavior and training. Written in Jean's inimitably informal yet incisive lecture style, the book races along on par with a good thriller.
The Culture Clash depicts dogs as they really are -- stripped of their Hollywood fluff, with their loveable "can I eat it, chew it, urinate on it, what's in it for me" philosophy. Jean's tremendous affection for dogs shines through at all times, as does her keen insight into the dog's mind. Relentlessly she champions the dog's point of view, always showing concern for their education and well-being.


Original Dog Bible
Kristin Mehus-Roe
Original Dog Bible: The Definitive Source for All Things Dog, Edited by Kristin Mehus-Roe. 832 pages. Publisher: BowTie Press; Second Edition edition (June 9, 2009) Complete with new and updated content, fresh photos and sidebars, The Original Dog Bible, 2nd Edition is now the most inclusive book on dogs available. Readers can discover the history of pure bred dogs, their evolution, their portrayal in literature and the media, and even the way they fit into society today. The expanded Breeds section catalogs more than 250 breeds alphabetically for easy reference and features breed-by-breed physical and personality descriptions. Expert writers, breeders, and judges from renowned magazines, including Popular Pets, Dog World, and Dog Fancy, contributed expert advice from their respective canine fields to make this the ultimate resource for novice dog owners and seasoned dog breeders alike. This book packs a wealth of information into nine jam-packed sections with more than thirty pages of resources: books, organizations, periodicals, video/audio, and web sites. A definite must-have for any dog fancier's bookshelf!
Supplies for your dog
: Shop for dog supplies from collars to training aids, from crates and kennels to toys and treats, from housebreaking aids to grooming and health care supplies.
Custom Search