Washington State Bird
| | | |
| --- | --- | --- |
| Willow Goldfinch | Carduelis tristis | Adopted:1951 |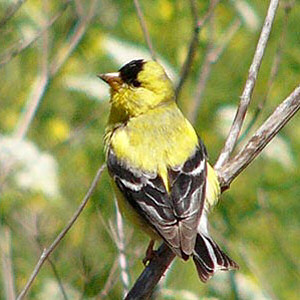 Washington State Bird: Willow Goldfinch (Carduelis tristis)
Adoption of the Washington State Bird
The Washington Legislature struggled to adopt an official state bird for the state for at least twenty-three years beginning in 1928.
In 1928, the first of three campaigns was produced to decide on an appropriate bird to represent Washington. State legislators approached Washington school children with the question. Overwhelmingly, the children decided that the western meadowlark was the best choice. The meadowlark is a wonderful bird, but legislators were concerned that this bird was popular in too many other states. Two other states had just adopted the western meadowlark (1927) as their own. Next door, the Governor of Oregon had proclaimed the western meadowlark that state's official bird and in Wyoming, the Legislature had adopted the western meadowlark as its official state bird. The western meadowlark was popular, though unofficial, in several other states as well.
The Washington Legislature did not take any action on the 1928 vote and, in 1931, the Washington Federation of Women's Clubs sponsored another state-wide referendum. In this contest, the willow goldfinch (American goldfinch) made a strong showing over the western tanager, the song sparrow, the junco and the pileated woodpecker.
By 1951, after two state-wide contests, the Washington Legislature still had not approved a bird to officially represent the state. They called for run-off between the western meadowlark and the willow goldfinch.
The willow goldfinch (American goldfinch) was adopted as the official state bird of the State of Washington in 1951.
The Revised Code of Washington
The following information is excerpted from the Revised Code of Washington, Title 1, Chapter 20, Section 1.20.040.
Title 1 - RCW GENERAL PROVISIONS.
CHAPTER 1.20 - RWC GENERAL PROVISIONS.
SECTION 1.20.040 - State bird.

RCW 1.20.040 State bird.
The willow goldfinch is hereby designated as the official bird of the state of Washington.
[1951 c 249 § 1.]
Additional Information
Washington State Bird: Willow Goldfinch (Carduelis tristis)
Courtesy of BirdCinema.com
Carduelis tristis (American Goldfinch): University of Michigan Museum of Zoology: Animal Diversity Web.
State Bird List: List of all of the state birds.
The Sibley Field Guide to Birds of Western North America: by David Allen Sibley.
Birding Washington: by Rob and Natalie McNair-Huff.
State Birds & Flowers 1000-pc Puzzle: Created at the request of The National Wildlife Federation this design is a beautiful and informative puzzle featuring every state bird perched on the appropriate state flower.
Bird Feeders and Accessories: Backyard Birding > Bird Feeders & Accessories from Amazon.com.
State Names, Seals, Flags, and Symbols: A Historical Guide, Third Edition - Benjamin F. Shearer and Barbara S. Shearer, Greenwood Press, 2002
State Names, Flags, Seals, Songs, Birds, Flowers and Other Symbols: A Study based on historical documents giving the origin and significance of the state names, nicknames, mottoes, seals, flowers, birds, songs, and descriptive comments on the capitol buildings and on some of the leading state histories, Revised Edition - George Earlie Shankle, Ph.D., The H.W. Wilson Company, 1938 (Reprint Services Corp. 1971)
---
Source: The Revised Code of Washington (RCW), (http://www.leg.wa.gov/RCW/index.cfm), April 15, 2005
Source: Washington State Legislature, (http://www1.leg.wa.gov/legislature/), April 16, 2005
Source: State Names, Seals, Flags, and Symbols: A Historical Guide, Third Edition - Benjamin F. Shearer and Barbara S. Shearer, Greenwood Press, 2002
Source: State Names, Flags, Seals, Songs, Birds, Flowers and Other Symbols: Revised Edition (Reprint)- George Earlie Shankle, Ph.D., The H.W. Wilson Company, 1938