W A S H I N G T O N B O O K S T O R E L O B B Y
Welcome to the Washington State Bookstore. We're glad you stopped by and we hope that you find exactly what you're looking for. Shopping categories include books about Washington people, books about Washington History, Washington Cookbooks, Hiking and enjoying the Washington outdoors, Washington reference books, and calendars, magazines and newspapers, DVD and videos, and posters under MORE. In The Washington State Bookstore you will find information about Washington for readers of all ages. Age ranges for books for young readers are highlighted in red. Have fun.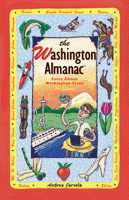 The Washington Almanac: Facts About Washington by Andrea Jarvela
For an in-depth profile of the Evergreen State, purchase The Washington Almanac: Facts About Washington. This 1999 publication will give you the most current information from the Pacific coastline to the peak of Mt. Rainier. Get 240 pages of the essential facts. Airports, Indians, Aquaculture, Agriculture, Area Codes, Avalanches, Beer, Birds, Bridges, Cascade Mountains, Cities and Towns, Columbia River, Constitution, Crime, Elected Officials, Endangered Species, Fire Lookouts, Ghost Towns, Government, History, Hot Springs, Judicial System, Legislature, Libraries, Lighthouses, Mammals, Minerals and Gems, Mount Rainier, Mount St. Helens, National Forests, National Marine Sanctuaries, Newspapers, Old-Growth Forests, Outdoor Recreation, Pacific Coast, Petroglyphs and Pictographs, Population, Public Transportation, Railroads, Rodeos, Snake River, Spotted Owl, State Symbols, Universities and Colleges, Vital Statistics, Waterfalls, Weather and Climate, Wildflowers, Wine, Zip Codes, Zoos and Aquariums and more. This is almanac is remarkable for the information that has been squeezed between the covers.