Alaska State Bird
| | | |
| --- | --- | --- |
| Alaska Willow Ptarmigan | Lagopus lagopus alascensis | Adopted:February 4, 1955 |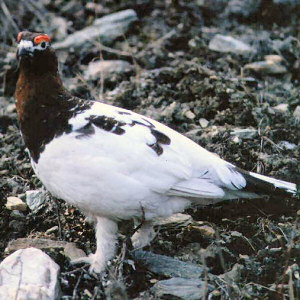 Willow Ptarmigan (Lagopus lagopus alascensis)
Courtesy: National Park Service
The Alaska Statutes - 2004
The following information is excerpted from the The Alaska Statutes - 2004, Title 44, Chapter 09, Section 060.
Title 44. STATE GOVERNMENT.
Chapter 44.09. STATE SEAL, FLAG, AND EMBLEMS.

Sec. 44.09.060. State bird.
The Alaska Willow Ptarmigan (Lagopus lagopus alascensis Swarth) is the official bird of the state.
Additional Information
Ptarmigan: Alaska Department of Fish and Game.
State Bird List: List of all of the state birds.
Guide to the Birds of Alaska: by by Robert H. Armstrong
Bird Feeders and Accessories: Backyard Birding > Bird Feeders & Accessories from Amazon.com.
State Birds & Flowers 1000-pc Puzzle: Created at the request of The National Wildlife Federation this design is a beautiful and informative puzzle featuring every state bird perched on the appropriate state flower.
State Names, Seals, Flags, and Symbols: A Historical Guide, Third Edition - Benjamin F. Shearer and Barbara S. Shearer, Greenwood Press, 2002
---
Source: Alaska Statutes - 2004, (http://www.legis.state.ak.us/folhome.htm), April 06, 2005
Source: State Names, Seals, Flags, and Symbols: A Historical Guide, Third Edition - Benjamin F. Shearer and Barbara S. Shearer, Greenwood Press, 2002