Alabama Official State Spirit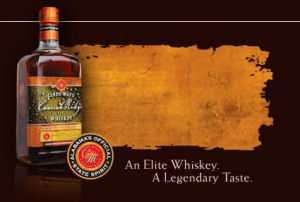 Conecuh Ridge Alabama Fine Whiskey: Alabama Official State Spirit
Credit: Conecuh Ridge Distillery, Inc.
Adoption of the Official State Spirit
Conecuh Ridge Alabama Fine Whisky is a recreation of an aged moonshine whiskey which was produced illegally in Alabama during the mid to late 20th century.
It was produced by Alabama moonshiner and bootlegger Clyde May. It's estimated that he produced about 300 gallons a week in his still in the woods near Almeria, Alabama. His whiskey was known for its high quality relative to typical moonshine.
Much of his production was sold as simple unaged corn liquor. But a certain portion was aged in charred barrels for about a year with a couple of dried apples for flavor. Mr. May bottled this aged whiskey and gave it to friends and valued customers as "Christmas Whiskey". Always operating outside the state liquor laws, Clyde May spent 18 months in jail beginning in 1973.
Clyde May died in 1990 and his son, Kenny worked to figure out how he could produce the "Christmas Whiskey" legally as a tribute to his father.
Using his father's recipe, and Alabama Conecuh Ridge spring water, Kentucky Bourbon Distillers, Ltd. of Bardstown, Kentucky produced 4,000 bottles in 2002. Under the watchful eye of master distiller Even Kulsveen, Kentucky Bourbon Distillers, Ltd. produced the mash (crushed grains such as corn, wheat, and rye) using Clyde May's recipe and Conecuh Ridge spring water trucked in from Alabama. The product was distilled, aged in charred white oak barrels, bottled, and returned to Alabama for distribution. Though produced in Kentucky, the water and the recipe were pure Conecuh Ridge.
On February 17, 2004, Representative Alan Boothe introduced House Joint Resolution No. 100 into the Alabama House of Representative. In short time, the Resolution was approved by the House by voice vote and sent on to the Alabama Senate for their consideration.
The Senate received House Joint Resolution No. 100 on February 26 and voted to approve it by two to one (14 Yeah, 6 Nay) on March 9.
On March 11, 2004 House Joint Resolution No. 100 was certified by the Clerk of the House. It was passed on to Governor Bob Riley for his signature on March 18.
Unfortunately, Governor Riley vetoed the Resolution that had been passed overwhelmingly by the Alabama State Legislature charging that Alabama "should not set a precedent of endorsing a commercially sold product." 1
Kenny May was disappointed, but the Alabama Legislature acted quickly and in a rare move overrode Governor Riley's veto by a vote of 54-7 in the House on March 18 and 19-8 in the Senate on April 6.
On April 8, 2004 the Clerk of the House certified the actions of the Alabama Legislature and House Resolution No. 100 was assigned as Act No. 2004-97. Conecuh Ridge Alabama Fine Whiskey was declared, by Resolution, Alabama's Official State Spirit.
HJR100
ENROLLED, House Joint Resolution,

DESIGNATING CONECUH RIDGE ALABAMA FINE WHISKEY THE OFFICIAL STATE SPIRIT OF ALABAMA.

WHEREAS, after serving his country with pride and patriotism during World War II, Clyde May returned home from the jungles of the South Pacific to his home in Bullock County, Alabama, and focused his attention on making a finely crafted bourbon, Conecuh Ridge Alabama Fine Whiskey; and

WHEREAS, the resulting 90 proof bourbon was Mr. May's "special Christmas whiskey," which was fashioned from a carefully guarded secret recipe, aged to perfection in charred oak barrels to a caramel amber hue, made from only the finest ingredients, and given to family and friends as a cherished token of his warmth and tireless devotion to his newly found craft; and

WHEREAS, Mr. May's son, Kenny May, has continued the family legacy by producing a small batch of hand-crafted bourbon based on the same techniques, standards, and recipes that his father used; and

WHEREAS, the bourbon, Conecuh Ridge, is produced using pure Alabama water and embodies family pride, independence, entrepreneurial drive, innovation, and respect for the tradition and craftsmanship which is evident in this family tradition; now therefore,

BE IT RESOLVED BY THE LEGISLATURE OF ALABAMA, BOTH HOUSES THEREOF CONCURRING, That we hereby designate Conecuh Ridge Alabama Fine Whiskey as Alabama's Official State Spirit and direct that a copy of this resolution be provided as a memento of this designation by the Alabama Legislature.
Alabama Law
Conecuh Ridge Alabama Fine Whiskey was approved by House Joint Resolution No. 100, Act No. 2004-97, of the 2004 Alabama State Legislature, overriding a veto by Governor Bob Riley, and is not listed in the The Code of Alabama 1975.
---
Source: 1The Chillicothe Constitution-Tribune, Alabama fights over name of state whiskey, Friday, March 19, 2004. Page 1.
Source: San Diego Union-Tribune, Drink up! Alabama lawmakers designate an official state whiskey. April 7, 2004.
Source: Alabama State Legislature, Alabama Legislative Information System Online, , October 8, 2008.
---
Additional Information
State Spirit of Alabama: Clyde May's Conecuh Ridge Whiskey from The Alabama Department of History & Archives.
Clyde May's Conecuh Ridge Whiskey - Small Batch Whiskey: Web site promoting Clyde May's Conecuh Ridge Whiskey.
Waters of Life from Conecuh Ridge: The Clyde May Story, by Wade Hall, 80 pages, NewSouth Books (March 1, 2007). Clyde May was the patriarch of a family from rural Bullock County, Alabama. He was a devoted father, a war veteran, and a churchgoer. He was also a moonshiner. This colorful memoir based on oral history interviews with May's son, Kenny, explores May's life and his passion for making good whiskey despite the risk of going to jail. Now the family tradition is taking a new twist, as Kenny and his siblings have established Alabama's first legal distillery to bottle and sell a distinctive whiskey based on the late Clyde May's recipe.
Bourbon at its Best: The Lore and Allure of America's Finest Spirits, by Ron Givens, 176 pages, Clerisy Press (March 18, 2008). Bourbon at Its Best reveals the flavorful history of this red-white-and-blue spirit, from its rural origins as "corn likker" to its rough- and- tumble days as moonshine to its downright genteel status as a premium liquor. Readers will find out what makes bourbon different from other whiskeys of the world and how to truly savor all of its better qualities.
Bourbon, Straight: The Uncut and Unfiltered Story of American Whiskey, by Charles K. Cowdery, 284 pages, Made and Bottled in Kentucky (August 2004). Follows the trail of America whiskey-making from its 17th century origins right up to the present day. In it, readers will discover the history of the American whiskey industry, how American whiskey is made and marketed, the differences among various types of American whiskey (bourbon, rye, Tennessee) and how they compare to other world whiskies.