Welcome to the Alabama State Bookstore. We're glad you stopped by and we hope that you find exactly what you're looking for. Shopping categories include books about Alabama people, books about Alabama History, Alabama Cookbooks, Hiking and enjoying the Alabama outdoors, Alabama reference books, and calendars, magazines and newspapers, DVD and videos, and posters under MORE. In The AlabamaState Bookstore you will find information about Alabama for readers of all ages. Age ranges for books for young readers are highlighted in red. Have fun.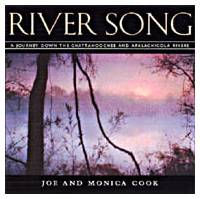 River Song: A Journey Down the Chattahoochee and Apalachicola Rivers by Joe Cook, Monica Cook
In the spring and summer of 1995, husband and wife photographers Joe and Monica Cook explored the length of the Chattahoochee and Apalachicola rivers by foot and canoe in a rare source-to-sea journey. This 100-day, 540-mile adventure took them through every bend of the river system from its ridge-top spring in the North Georgia mountains, through Atlanta's suburban sprawl, down the Alabama-Georgia border, through the tupelo and cypress swamps of the Florida panhandle and finally to the Gulf of Mexico. This stunning photographic record of a source-to-sea river adventure makes a compelling argument for the preservation of one of the country's most beautiful, but threatened, waterways. River Song is an engaging travelogue, a gorgeous photographic portfolio, and a wake-up call to those who care about this endangered waterway.