HOME
INTRO
SYMBOLS
ALMANAC
ECONOMY
GEOGRAPHY
STATE MAPS
PEOPLE
FORUM
NEWS
COOL SCHOOLS
STATE QUIZ
STATE LINKS
BOOK STORE
MARKETPLACE
GUESTBOOK
CONTACT US


---
Double click on word for definition.
Utah State Animal
Elk
Cervus elaphus
Adopted:
February 1, 1971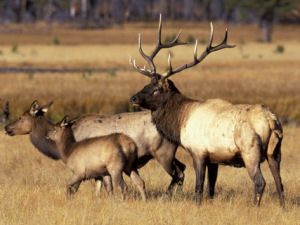 Utah State Animal: Elk
Photographs, posters and prints to purchase
According to the Ogden Standard-Examiner [ 1 ], Senate Bill No. 18, designating an official state animal, and Senate Bill No. 19, designating an official state fish, were the first bills of the 1971 legislative session to reach Governor Calvin L. Rampton?s desk for approval.
Surely, the bills made it through the legislature and to the governor?s desk in record time.
Introduced by State Senator Kendrick Harward on January 11, 1971, both bills were approved by the State Senate and the House and signed by the governor in less than one month!
The elk became the official animal and the rainbow trout became the official state fish of the State of Utah when Governor Rampton signed Senate Bill No. 18 and Senate Bill No. 19 on February 1, 1971.
The new state symbols were proposed by, and obviously well escorted through the legislature by, elementary school students from Richmond.
Utah Law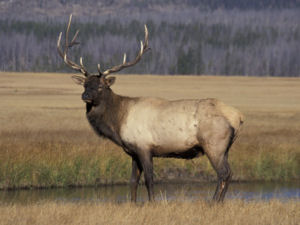 Utah State Animal: Elk
Photographs, posters and prints to purchase
The following information was excerpted from the Utah Code, Title 63G, Chapter 1, Section 601.
Title 63G General Government
Chapter 1 State Symbols and Designations
63G-1-601. State symbols.
(1) Utah's state animal is the elk.
(2) Utah's state bird is the sea gull.
(3) Utah's state centennial astronomical symbol is the Beehive Cluster located in the constellation of Cancer the Crab.
(4) Utah's state centennial star is Dubhe, one of the seven bright stars composing the Big Dipper in the constellation Ursa Major.
(5) Utah's state centennial tartan, which honors the first Scots known to have been in Utah and those Utahns of Scottish heritage, shall have a pattern or repeating-half-sett of white-2, blue-6, red-6, blue-4, red-6, green-18, red-6, and white-4 to represent the tartan worn anciently by the Logan and Skene clans, with the addition of a white stripe.
(6) Utah's state cooking pot is the dutch oven.
(7) Utah's state emblem is the beehive.
(8) Utah's state emblem of service and sacrifice of lives lost by members of the military in defense of our freedom is the "Honor and Remember" flag, which consists of:
(a) a red field covering the top two-thirds of the flag;
(b) a white field covering the bottom one-third of the flag, which contains the words "honor" and "remember";
(c) a blue star overlaid by a gold star with a thin white border in the center of the flag spanning the red field and the white field; and
(d) a representation of a folded United States flag beneath the blue and gold stars with three tongues of flame emanating from its top point into the center of the gold star.
(9) Utah's state firearm is the John M. Browning designed M1911 automatic pistol.
(10) Utah's state fish is the Bonneville cutthroat trout.
(11) Utah's state flower is the sego lily.
(12) Utah's state folk dance is the square dance, the folk dance that is called, cued, or prompted to the dancers and includes squares, rounds, clogging, contra, line, and heritage dances.
(13) Utah's state fossil is the Allosaurus.
(14) Utah's state fruit is the cherry.
(15) Utah's state vegetable is the Spanish sweet onion.
(16) Utah's historic state vegetable is the sugar beet.
(17) Utah's state gem is topaz, as is prominently found in the Thomas Mountain Range in Juab County, Utah.
(18) Utah's state grass is Indian rice grass.
(19) Utah's state hymn is "Utah We Love Thee" by Evan Stephens.
(20) Utah's state insect is the honeybee.
(21) Utah's state mineral is copper.
(22) Utah's state motto is "Industry."
(23) Utah's state railroad museum is Ogden Union Station.
(24) Utah's state rock is coal.
(25) Utah's state song is "Utah This is the Place" by Sam and Gary Francis.
(26) Utah's state tree is the blue spruce.
(27) Utah's state winter sports are skiing and snowboarding.
Amended by Chapter 44, 2012 General Session
---
Sources...
[ 1 ]"FIRST BILL TO REACH RAMPTON'S DESK: A FISH TALE WITH ANTLERS." Ogden Standard-Examiner 21 Jan 1971, 8A. Print.
"Outdoor Roundup." The Herald [Provo] 24 Jan 1971, 13. Print.
"Legislative Log 10th Day: House bills passed." Ogden Standard-Examiner 21 Jan 1971, 2A. Print.
"It looks like elk, trout most popular." Ogden Standard-Examiner 16 Jan 1971, 11. Print.
"STATE ANIMAL, FISH SOUGHT." Ogden Standard-Examiner 12 Jan 1971, 1. Print.
"Utah Code." Utah State Legislature. The State of Utah. Web. 19 Nov 2013.
Shearer, Benjamin F. and Barbara S. State Names, Seals, Flags and Symbols: A Historical Guide Third Edition, Revised and Expanded. Westport, Conn: Greenwood Press, 3 Sub edition, 2001.
---
Additional Information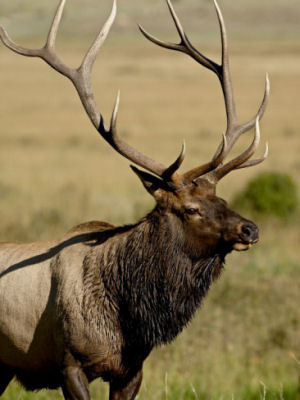 Utah State Animal: Elk
Photographs, posters and prints to purchase
Utah State Animal - Rocky Mountain Elk: PIONEER - Utah's Online Library.
Rocky Mountain Elk Fact Sheet

: Utah Division of Wildlife Resources.
Elk: Utah Division of Wildlife Resources: Utah Wildlife Photo Gallery.
Elk (Cervus elaphus): National Wildlife Foundation's eNature.com field guide.
Cervus elaphus (Elk): Smithsonian Museum of Natural History - North American Mammals.
Cervus elaphus American Elk Or Wapiti: Encyclopedia of Life.
Cervus elaphus, elk (Also: red deer; wapiti): The University of Michigan Museum of Zoology: Animal Diversity Web.
Cervus elaphus - (Linnaeus, 1758), Elk: A network connecting science with conservation - NatureServe Explorer: An Online Encyclopedia of Life.
Cervus elaphus Linnaeus, 1758: Integrated Taxonomic Information System (ITIS) Here you will find authoritative taxonomic information on plants, animals, fungi, and microbes of North America and the world.
State animals: Complete list of official state animals from NETSTATE.COM
More symbols & emblems: Complete list of official Utah state symbols from NETSTATE.COM.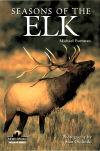 Seasons of the Elk
by Michael Furtman
Seasons of the Elk, by by Michael Furtman. 144 pages. Publisher: Northword Press; illustrated edition edition (December 1997)
Inside Seasons of the Elk you'll learn about their breeding habits, how and why bull grow such impressive antlers, the history of their evolution and migration to North America, and just about every detail of their daily lives.
Elk are fascinating animals. Did you know that they once ranged across virtually all of North America and that at the time of European contact their range exceeded that of today's ubiquitous white-tailed deer? While we often think of them as creatures of the mountains, elk really evolved as herd animals best suited to the open plains, where they once number in the hundreds of thousands.


Rocky Mountain Elk
Portfolio
Donald M. Jones
Rocky Mountain Elk Portfolio, by Donald M. Jones. 120 pages. Publisher: Farcountry Press; First edition (May 30, 2004)
Donald M. Jones is a Montana based wildlife photographer specializing in all forms of nature from the Arctic to the deserts from the swamps to the mountains and everywhere in between.
Mr. Jones has created an inspired collection of images capturing elk in a wide variety of habitats; lush meadows; dense spruce forests; sandy riverbanks; grassy golden hillsides; and snow-blanketed valleys. Jones gets closer than most people ever will to these spectacular creatures and thus is able to show the story of their survival in the Rocky Mountains.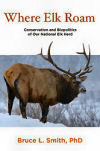 Where Elk Roam
Bruce L. Smith PhD
Where Elk Roam: Conservation and Biopolitics of Our National Elk Herd, by Bruce L. Smith PhD. 272 pages. Publisher: Lyons Press; First edition (November 8, 2011)
One of the world?s largest and most social deer species, elk?with their five to eight-hundred-pound tawny bodies, sweeping antlers, and fascinating behaviors?draw millions of people to seek them each year in national parks and other public lands. So valued are elk for viewing, sport, and table fare, that over the past twenty-five years they have been transplanted from the West to five eastern states and Ontario, Canada. These reintroductions helped restore a treasured animal that as recently as two centuries ago roamed from the Atlantic to the Pacific and from Alaska to Mexico.
Where Elk Roam provides an inside look at the field studies and conservation work of a federal wildlife scientist who for twenty-two years served as the National Elk Refuge?s wildlife biologist?coordinating winter feeding of eight thousand elk and tracking their births, deaths, and annual migrations throughout the Greater Yellowstone Ecosystem.
As entertaining as it is educating, this book brings to life the joys and rewards of working not only with elk but also a host of other remarkable species?including wolves, bears, and mountain lions.