---
Double click on word for definition.
Tennessee State Wild Animal
Raccoon
Procyon lotor
Adopted:
May 21, 1971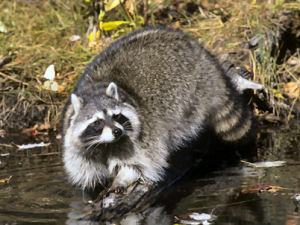 Tennessee State Wild Animal: Raccoon
Photographs, prints, posters
By House Joint Resolution 156, the 87th General Assembly adopted the raccoon as Tennessee's official wild animal on May 21, 1971.
The raccoon, Procynn lotor, is a furry animal that has a bushy, ringed tail and a band of black hair around its eyes which looks like a mask.
Raccoons, often called coons, eat fish and frogs that they catch in rivers and streams.
Raccoons living in Tennessee measure from 30 to 38 inches long, including their tails. They weigh from 12 to 25 pounds. Most males are larger than females. Raccoons walk like bears, with all four feet on the ground, and are good swimmers.
("Tennessee Department of State")
House Joint Resolution No. 156 was approved by the Tennessee General Assembly on May 17, 1971 and by Governor Winfield Dunn on May 21, 1971.
HOUSE JOINT RESOLUTION NO. 156

By Neese

A RESOLUTION to proclaim the Raccoon (Procyon lotor) as the Official Wild Animal of the State of Tennessee.

WHEREAS, The Raccoon (procyon lotor) is in great abundance throughout the entire State of Tennessee; and

WHEREAS, The Raccoon is considered to be one of our most important fur bearing game animals; and

WHEREAS, The Raccoon is held in high esteem as one of the most valuable game animals in the State of Tennessee; and

WHEREAS, The "Coonskin Cap" has been displayed in the Halls of Congress and on the Frontier with equal candor; and

WHEREAS, Most small boys, and men alike, this Nation over think of the Great State of Tennessee as: Home hunting ground of Davy Crockett, Green Mountains, and 'Coons; and

WHEREAS, Without the sport of 'Coon hunting, many rich and colorful stories would never have been possible, to be related from one generation to another for centuries to come; and

WHEREAS, The 'coon is a subject of great deal of legislation in each General Assembly; and[sic]

WHEREAS, Without the sport of 'Coon hunting, many men would have missed the envigorating benefits and enriching experiences to be enjoyed while pursuing the elusive 'Coon; and

WHEREAS, The State of Tennessee does not officially have a State Wild Animal; now, therefore,

BE IT RESOLVED BY THE HOUSE OF REPRESENTATIVES OF THE EIGHTY-SEVENTH GENERAL ASSEMBLY OF THE STATE OF TENNESSEE, THE SENATE CONCURRING, That the Raccoon (Procyon lotor) be adopted as the official wild animal symbolic of the State of Tennessee.
Additional Information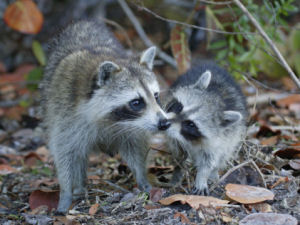 Tennessee State Wild Animal: Raccoon
Photographs, prints, posters
Raccoons in Tennessee: Tennessee Wildlife Resources Agency.
Common Raccoon (Procyon lotor): National Wildlife Foundation's eNature.com field guide.
Procyon lotor (Northern Raccoon): Smithsonian Museum of Natural History - North American Mammals.
Procyon lotor (northern raccoon): The University of Michigan Museum of Zoology: Animal Diversity Web.
Procyon lotor - (Linnaeus, 1758), Raccoon: A network connecting science with conservation - NatureServe Explorer: An Online Encyclopedia of Life.
Procyon lotor : Integrated Taxonomic Information System (ITIS) Here you will find authoritative taxonomic information on plants, animals, fungi, and microbes of North America and the world.
State animals: Complete list of official state animals from NETSTATE.COM.
State mammals: Complete list of official state mammals from NETSTATE.COM
More symbols & emblems: Complete list of official Tennessee state symbols from NETSTATE.COM.


Exploring the World
of Raccoons
Tracy C. Read
Exploring the World of Raccoons, by Tracy C. Read. 24 pages. Publisher: Firefly Books (March 11, 2010) Reading level: Ages 9-12. A glimpse inside the daily life of nature's masked bandits.
Children find the bandit-masked face and button nose of a raccoon irresistibly cute, and catching a glimpse of one in a neighborhood tree never fails to excite. Raccoons describes the natural history of these cousins of the panda bear and explains how that heritage helps them thrive in cities as well as in fields and woodlands. Color photographs of adults and kits in urban and natural settings give readers the chance to look more closely at these elusive creatures, and children will enjoy the amusing descriptions of the raccoon's antics and mischief. But Raccoons also shows youngsters why they shouldn't feed these brazen visitors and that, even though they share our cities and towns, raccoons will always be wild animals.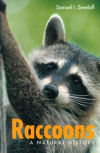 Raccoons
A Natural History
Samuel I. Zeveloff
Raccoons: A Natural History, by Samuel I. Zeveloff. 240 pages. Publisher: Smithsonian Books (February 17, 2002) he word raccoon is drawn from the Native American Algonquian language. Their term arakun roughly translates to ?he who scratches with his hands.? Anyone who has found a raccoon rummaging around in a once securely closed trash container can attest to how skillful raccoons are with their front paws. In fact, they have four times as many sensory receptors in their forepaw skin as they do in their hindpaws, a ratio similar to that of human hands and feet. Samuel Zeveloff explores this trait and much more in his accessible natural history of raccoons.
Written with the general reader in mind, Raccoons presents detailed information on raccoon evolution, physical characteristics, social behavior, habitats, food habits, reproduction, and conservation, as well as their relationship with humans and many other topics. The section on distribution and subspecies focuses on the raccoon's current range expansion, and the material on their cultural significance demonstrates this mammal's unique status in different North American cultures.


A Natural History
of Raccoons
Dorcas MacClintock
A Natural History of Raccoons, by Dorcas MacClintock. 144 pages. Publisher: The Blackburn Press (March 15, 2003) Originally published in 1981, A Natural History of Raccoons is a thorough study of the characteristics and habits of one of the most fascinating creatures among our country?s wildlife. Topics covered include: behavioral characteristics (curiosity, raccoons in motion, winter denning); feeding habits, controlling their numbers (disease, parasites and predators); mating, and cubs; and habitat requirements.
Raccoons are ecologic opportunists of the first order, living in forest, marsh and coastal environments, and forever exploring new habitats in suburb and city. Many people who have only occasionally glimpsed these predominantly nocturnal creatures will welcome this opportunity to become more familiar with them.
The book includes a chapter on caring for raccoons, which will be especially helpful for those who ? like the author ? have been called upon to nurture orphaned raccoon cubs.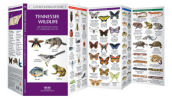 Tennessee Wildlife
James Kavanagh
Tennessee Wildlife: An Introduction to Familiar Species, by James Kavanagh. Illustration Count: 140. Size: 8.25" H x 3.5" W. Product Form: folded. Publisher: Waterford Press; Map edition (April 1, 2011) Tennessee Wildlife is the perfect pocket-sized, folding guide for the nature enthusiast. This beautifully illustrated guide highlights over 140 familiar species of birds, mammals, reptiles, amphibians, butterflies, insects and fishes and includes a map featuring prominent state-wide wildlife sanctuaries. Laminated for durability, this handy guide is a great source of portable information and ideal for field use by novices and experts alike.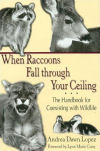 When Raccoons Fall
Through Your Ceiling
Andrea Dawn Lopez
When Raccoons Fall through Your Ceiling: The Handbook for Coexisting with Wildlife, by Andrea Dawn Lopez. 184 pages. Publisher: University of North Texas Press (October 21, 2002) Have you ever had raccoons fall through your ceiling? Discovered a nest of sparrows in your hanging flower basket? Or how about woke up one morning to discover deer have nibbled on your flower garden, reducing your blossoms to stems? If so, you're not alone. The paths of humans and wildlife cross all the time, and it is the aim of this handbook to make sure those paths cross as peacefully as possible.
Andrea Dawn Lopez, a former manager at Wildlife Rescue and Rehabilitation, Inc., in San Antonio, Texas, has distilled her knowledge of dealing with wildlife in When Raccoons Fall through Your Ceiling. She tackles a wide variety of situations that occur when human and non-human worlds clash. Have you found a baby bird on your porch? Is a snake taking up residence in your garage? Or perhaps woodpeckers are drumming against your house? Lopez offers advice on how to deal humanely with each situation with tips on relocation, repelling, and when to call in the experts (for when the bears are rattling your trash cans).