Avery Brundage
Born: September 28, 1887
Place: Detroit, Michigan
Died: May 5, 1975
Place: Garmisch-Partenkirchen, W. Germany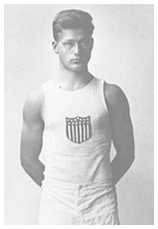 Avery Brundage was born in Detroit, Michigan on September 28, 1887. He graduated from Chicago English High School in 1905, and went on to earn a B.S. degree in Civil Engineering in 1909 from the University of Illinois at Urbana-Champaign. In 1912, Brundage competed for the U.S. track and field teams in the pentathlon and decathlon at the Olympics in Stockholm. In 1914, 1916, and 1918, he was U.S. All-around champion. Brundage promoted amateur athletics throughout his life, and he also became very successful in the business world. He devoted many of his years as a spokesman for all amateur athletics. He served in executive positions, including President, of the Amateur Athletic Unions as well as the U.S. Olympics during a span of leadership that began in 1928 and continued through 1972 and his 20-year reign as President of the International Olympic Committee.
During his career, Brundage tirelessly tried to keep amateur sports from being influenced by money and politics. It was a tough battle. When the United States debated whether to participate in the 1936 Olympics in Berlin, Brundage spoke out in favor of competing, enraging those who believed that a U.S. boycott would be a powerful statement against the Nazis. Brundage stuck to his guns, advocating the separation of politics from amateur sports. And in 1972, he again argued for the continuation of the Olympic Games, even after the tragic massacre of Israeli athletes. In Brundage's view, amateur sports had to be totally removed from political events, no matter how unsavory those events were. Avery Brundage retired from the International Olympic Committee in 1972. He died in Garmisch-Partenkirchen, West Germany, on May 5, 1975.
Find out more about Avery Brundage. Click to purchase The Games Must Go on : Avery Brundage and the Olympic Movement by Allen Guttmann.
---