Sidney Clopton Lanier
Born: February 3, 1842
Place: Macon, Georgia
Died: September 7, 1881
Place: Lynn, North Carolina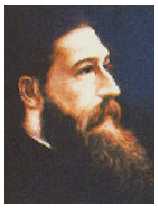 Sidney Clopton Lanier was born on February 3, 1842 in Macon, Georgia. Soon after his birth, his family moved to the town of Griffin, and then they returned to Macon when Sidney was six years old. As a child, he loved the outdoors. His rural Georgia surroundings were perfect for a boy who was content to spend hours on a tree limb in the woods, or pass an afternoon with a fishing pole along a quiet river. As he grew up, Lanier taught himself how to play the flute, and he developed a talent for writing, especially for poetry. His passion for nature and the rural countryside of his youth are woven into much of the music and literature that Lanier would create throughout his life. He did very well as a student, and at 14 he left his hometown of Macon and headed off to Georgia's Oglethorpe College, where he graduated at the top of his class.
Within a year of his graduation, Lanier heeded the call of the Confederate Army, and he signed on for duty in the Civil War. He served as a scout, and then as an officer on the seas aboard a blockade runner off the coast of North Carolina. His maritime adventures came to an abrupt halt when he was captured by Union troops and imprisoned in the fall of 1864. Prison conditions were poor, of course, and the year that Lanier spent in prison seriously damaged his health. When he was released from prison, he returned to civilian life, married, and fathered four sons. He held several jobs as he tried to support his family and still pursue his love of literature and music. As a result of his wartime experiences, Lanier produced his only novel, Tiger Lilies, which was published in 1867. During the next several years, Lanier worked on his poetry, and he wrote a string of poems that captured the beauty of his beloved Georgia countryside. He saw some success as his poetry began to be published, and he continued to weave the landscape of rural Georgia together with his moral values, producing works that beautifully capture the essence of Lanier's South.
Lanier's interest in music and writing guided him throughout the rest of his life, even as his health continued to deteriorate. In 1873 he moved to Baltimore, Maryland to join the Peabody Orchestra as the orchestra's first flutist. In 1879 he joined Johns Hopkins University as a lecturer in English literature. During these years, he continued to write and publish his poetry. Many people consider Sidney Lanier to be the greatest Southern poet of his time. His work is lyrical and brimming with the imagery of the South that he loved. To sample his work, click here to purchase Poems of Sidney Lanier. It is a "feast for the soul" for anyone who would like to become immersed in the 19th century American South.
Sidney Lanier died at the young age of 39. His confinement in prison during the Civil War evidently led to his contraction of tuberculosis, and he fought it throughout the rest of his life, but finally succumbed to the disease in 1881.
---