Margaret Munnerlyn Mitchell
Born: November 8, 1900
Place: Atlanta, Georgia
Died: August 16, 1949
Place: Atlanta, Georgia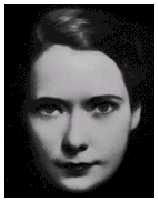 Margaret Munnerlyn Mitchell was born in Atlanta, Georgia on November 8, 1900. Her family was a well-established member of Atlanta's social fabric, and Margaret herself was a fifth-generation Atlantan. She grew up with a very clear sense of family and its history. Her father was a prominent Atlanta attorney and historian. Her mother was an outspoken advocate of women's rights, and an active suffragette supporter. Margaret's childhood was shaped in large part by the values of her parents and the inspiring tales passed on by her relatives and family friends. Her family's history lived on as they retold the stories of their past, shaped by the battles, conflicts, and triumphs of their times. These personal histories shaped Margaret's imagination and provided her with much of the material that she drew upon for her later writing.
As a young girl, Margaret showed an early interest in writing, and she tried her hand at short stories and plays throughout these early years, sharing her work with family, friends, and teachers, but never publishing any of these early writings. Margaret's youth and her education were very much a product of the culture of the South. From 1914 to 1918, she attended Washington Seminary, a finishing school in Atlanta. From there, she was accepted at Smith College, but Massachusetts was not where her heart was, and she soon returned to her native Atlanta.
In 1922, Margaret Mitchell began to write for The Atlanta Journal. When health problems forced her to stay off her feet, she left the Journal and spent her time at home reading and writing. This is when she began the work which eventually made her famous. Drawing on her passion for the South and her family histories, Margaret Mitchell spent years constructing her saga of life in the South during the Civil War. Her huge masterpiece of romance, hardship, bravery, and courage is now a monumental classic and is one of the greatest love stories and Civil War sagas ever written. Within six months of publishing Gone With The Wind in 1936, the novel had sold a million copies. In 1937 Margaret Mitchell won the Pulitzer prize for her novel, and her heroine Scarlett O'Hara and her hero Rhett Butler became immortalized on film as the novel inspired one of the most popular movies of all time, capturing ten Academy awards in 1940. Margaret Mitchell never published another novel, but spent the rest of her days working on volunteer projects in the South. She also became a spokesperson for the Red Cross during World War II. She met a tragic end in 1949 when she was hit by a car in Atlanta, but she will always be remembered for her magnificent sweeping masterpiece of the South during the Civil War.
Use the following links to purchase the book, the movie, and the soundtrack from Amazon.com:
Click here to add a very nice hardcover version of Gone With The Wind to your reading library. This edition features an introduction by James Michener.
To purchase the video of the classic film starring Clark Gable and Vivian Leigh, click here for the VHS version, or click here for the DVD version.
Also available is a great two-disc digital restoration of the original Max Steiner soundtrack of the film. Click here to add this wonderful soundtrack to your audio collection.
---