Asa Griggs Candler
Born: December 30, 1851
Place: Villa Rica, Georgia
Died: March 12, 1929
Place: Atlanta, Georgia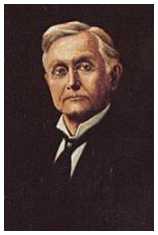 Asa Griggs Candler was born in Villa Rica, Georgia on December 30, 1851. He was one of eleven children in the Candler family. The Civil War was being fought during some of Candler's youthful days, and is one of the reasons that he had sporadic schooling. After the war ended, he did spend some time in high school, but he was anxious to get started in the outside world. He left school in 1870 and set out to find a pharmacist that he could apprentice for. Over the next several years, Candler learned what he could about the drugstore business. Then he moved on to Atlanta. Here he entered into a series of partnerships and business deals and had his own company in 1886. By 1888, he had built up one of the largest drug businesses in Atlanta.
Candler was a very savvy businessman. When he saw opportunities, he acted. There was another Atlanta druggist, Dr. John Pembleton, who had started selling a fizzy concoction of soda water and a patent medicine at Jacob's Pharmacy in Atlanta. The drink, which Dr. Pembleton called Coca Cola, was enjoyed by several of the pharmacy's regular customers. The story is that Asa Candler purchased the recipe for Coca Cola for $2300. From that start he turned Coca Cola into a nationally recognized brand. He marketed his product like no other product had been marketed before. He spent enormous sums (by the standards of the time) on advertising. But he succeeded. Today, of course, the Coca-Cola brand is known the world over, and Coke itself is about as close to a U.S. national symbol as are hot dogs and baseball.
Asa Griggs Candler amassed a very sizeable fortune over his lifetime, and in his later years, until his death in 1929, he devoted much of his time and energy to philanthropy.
---