Sheldon Jackson
Born: May 18, 1834
Place: Minaville, New York
Died: 1909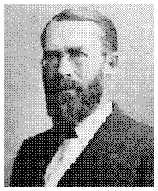 Sheldon Jackson was born in Minaville, New York in 1834. He graduated from Union College in 1855, and from Princeton Theological Seminary in 1858. He became an ordained Presbyterian minister after leaving Princeton, and soon began his extensive missionary career. His missionary work started in western Wisconsin and southern Minnesota; then from 1869 to 1882, his work led him to travel on to Nebraska, Iowa, and much of the Rockies. Jackson's enthusiasm and energy was unstoppable as he pursued his mission throughout Arizona, New Mexico, Utah, Colorado, Wymoning, and Montana. It is estimated that during the course of his life, he may have travelled close to a million miles as he established over a hundred missions and churches.
In 1877, Alaska became his passion. He founded numerous schools and training centers that served native Alaskans. Jackson became very committed to the spiritual, educational, and economic well-being of the people of Alaska. He made numerous trips into Siberia and imported nearly 1300 reindeer to bolster the livelihoods of Alaskan Eskimos. He travelled extensively throughout Alaska, and collected representative items as he journeyed. He worried that native cultures and their arts and ways of life would vanish, with no records of their past. His collections became the foundation for a museum of natural history and ethnology in Sitka. Today the Sheldon Jackson Museum, located at Sheldon Jackson College in Sitka, houses many of Jackson's pieces, as well as other examples of Tlingit, Eskimo, and Aleut culture.
Jackson saw the necessity of using political means to further his goals of betterment for the Alaskan people. He became a close friend of President Benjamin Harrison. He worked toward the passage of the Organic Act of 1884, which ensured that Alaska would begin to set up a judicial system, including a court, a judge, a marshall, a district attorney, and commissioners appointed by the President of the U.S. But more importantly to Jackson, the Act provided Federal aid for education for Alaska. As a result, Sheldon Jackson became the First General Agent of Education in Alaska. Sheldon Jackson's energy and devotion to the educational and spiritual growth of native Alaskans continued unabated until his death in 1909.
Jackson's travels and early efforts to spread the Presbyterian's missions are chronicled in Norman J. Bender's Winning the West for Christ : Sheldon Jackson and Presbyterianism on the Rocky Mountain Frontier, 1869-1880
---